6 Jobs That Let You Travel Internationally and How to Land Them
Do you have extreme wanderlust? I do. I'm pretty much a travel addict. Do you look on Instagram at these young people spending months at a time traveling all over the world and wonder how in the world they're doing what they're doing? They're not all independently wealthy. It's all about knowing how to find jobs that let you travel internationally.
Finding jobs that travel internationally can be easier than you thought. Some traveling jobs require no degree & no experience! There are actually entry level jobs that require travel!
I'm not going to list jobs that take a decade of schooling and training to get. This is a list of 6 realistic jobs that you can travel with.
Are you ready to put that passport to use? Stop what you're doing because this article is going to show you 6 great options for working abroad and how easy or difficult they are to land.
6 Jobs That Let You Travel Internationally & How to Land Them
Watch this video listing 6 great jobs you can work while you travel the world. I'll show you how easy or hard they are to land, if they pay well, what you'd be doing, along with some resources for researching further. Which one of these has your name written all over it?
---
---
1. English Teacher Abroad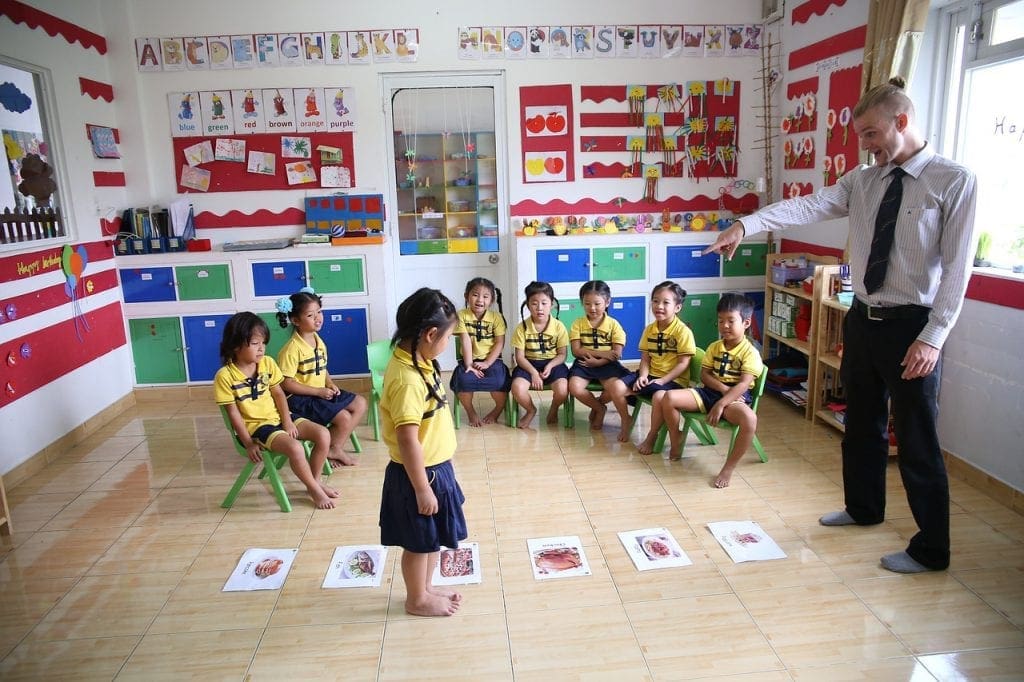 Ease of attaining: Not difficult, but may take time for some
Pay: $2000 – $3000 per month
One of the most popular and sought after jobs that you can travel with is being a professional English teacher. English teachers are very sought after all over the world. And you don't have to be a Shakespearean expert in the language either. A basic knowledge and understanding plus a couple of credentials along with a college degree can be all you need.
You speaky the English? Yes? You're hired!
You think I'm joking? Surprisingly, as related by one of my readers in the comments section below this article, his interview basically took as long as that sentence took to type:
You speaky the English was more or less all I had to listen to at an interview with Thai school staff. Being presentably dressed and well mannered also help a great deal. They're not keen on teachers with tattoos here, so if you have any, keep them covered up." – (read the original comment left by James in the comments section below the post).
As I mentioned, you do need a college degree and a TEFL certification (Teaching English as a Foreign Language). But if you can acquire those and are ready to travel, the pay isn't bad.
You normally even get your accommodations taken care of, too.
While the TEFL isn't too hard to get, the degree will take time if you don't have one already. Hit the books for a couple of years and enjoy very rewarding career and the travel that comes with it.
Additional Resources: Teaching English as a Foreign Language For Dummies
2. Flight Attendant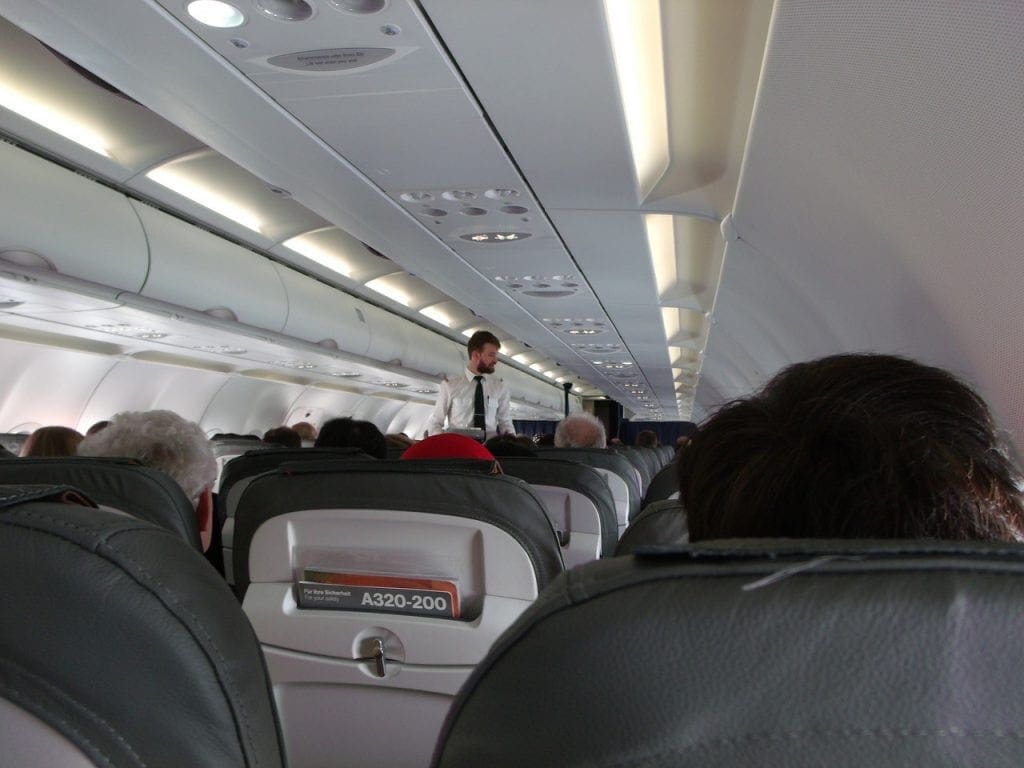 Ease of attaining: Training & lots of patience needed
Pay: $1000 – $4000 per month
I've been on many, many, many flights. This happens when you have extreme wanderlust like I do. I have to admit though, I've never seen the life of a flight attendant as glamorous. This may be because of 16+ years as a firefighter dealing with people calling 911. Customer service isn't always fun.
But you know what is?
Constantly flying around the world, partying in seemingly limitless cities, taking in all the different cultures, FREE TRAVEL FOR YOU AND YOUR FAMILY, and of course, the view from working above the clouds.
Did I mention the FREE TRAVEL? I did? Ok good.
All those perks are needed because customer service in a confined space with cranky passengers can be VERY difficult. The training can be grueling, the hours are sometimes long (16 hour flight to australia anyone?), and you'll have to get used to skyping your loved ones.
But hey, when it comes to jobs that you can travel with, the perks that come with this job are hard to beat and may just outweigh dealing with the woman throwing a childlike tantrum in seat 16C because you're all out of ginger ale.
Additional Resources: The Essential Guide To Becoming a Flight Attendant
3. Work as an Au Pair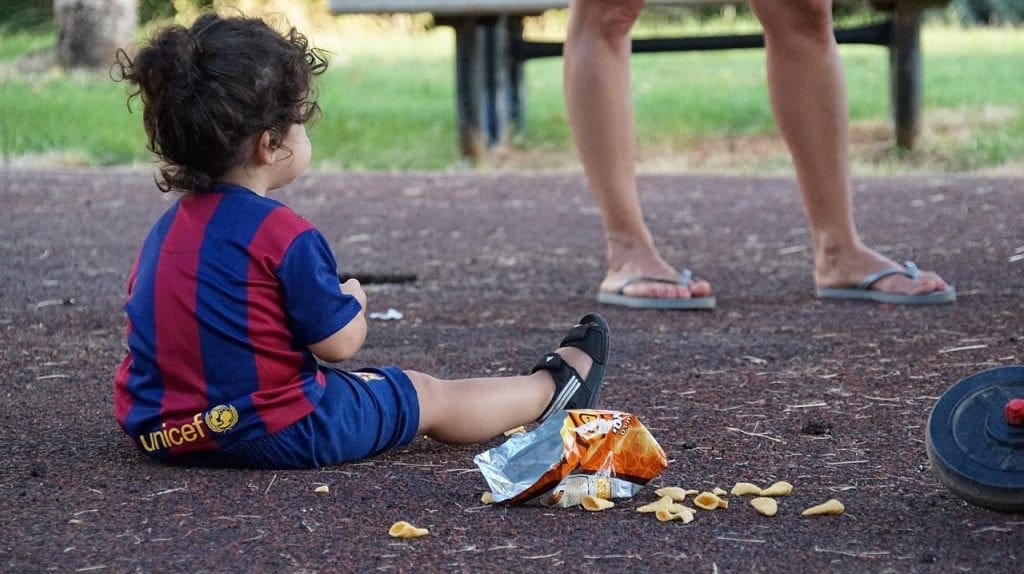 Ease of attaining: Not too hard, must love kids
Pay: $400 – $1000 per month
This is another very popular one, especially among young, female wanderlusters.
An au pair is a live-in babysitter. To be an au pair you'll probably need mastery of a second language since you'll be communicating with your host family and their kids constantly.
(You should probably really love children too.)
Being an au pair has a dash of English teacher sprinkled in with it. Besides your basic household chores, you'll also be helping teach the kids a new language. Kids are sponges when it comes to language. (Try not to cuss around them. When they start sharing their newly learned English cuss words with their parents, you'll have some explaining to do.)
In return for your duties, you get room, board, and a modest income. Also, you get to live in a foreign country and truly experience a new culture up close and personal. Can you say "total immersion"?
Don't expect to have too much free time though. Kids do need lots and lots and lots of attention. But this also makes for a very rewarding job.
(Unless they're brats).
Additional Resources: Au Pair Guide: A Helpful Handbook For Your Time Abroad
4. Bartender
Ease of attaining: Pretty easy
Pay: $1000 – $4000 per month
Now we're talking. You know what's one of the best things about working in the bar industry? The job description is just about the same everywhere you go!
Bars, restaurants, and nightclubs all have a proven formula when it comes to bartending. Be attentive, be social, and most importantly make really good drinks! I'm always partial to a bartender who smiles, but I'll take a stone faced bartender who knows what they're doing and never leaves me waiting without a drink in a heartbeat.
Wherever you're working, it'll be helpful to know the basics in the native language. Although when I've partied abroad, I've found that everyone seems to magically understand each other when alcohol is in the mix. Funny how that works.
But to avoid insulting your patrons, take a cram course in the native language. You'll pick up the rest as you go.
The more experience you gain bartending, the more opportunities will open up with a potential for higher pay. And who wouldn't love to say they bartended all across the globe?
No matter what age you are, if you're serious about working abroad and don't mind working for someone else and working lots of crazy nights, bartending abroad may be for you.
Additional Resources: The Curious Bartender: The Artistry and Alchemy of Creating the Perfect Cocktail
5. Work on a Cruise Ship or Private Yacht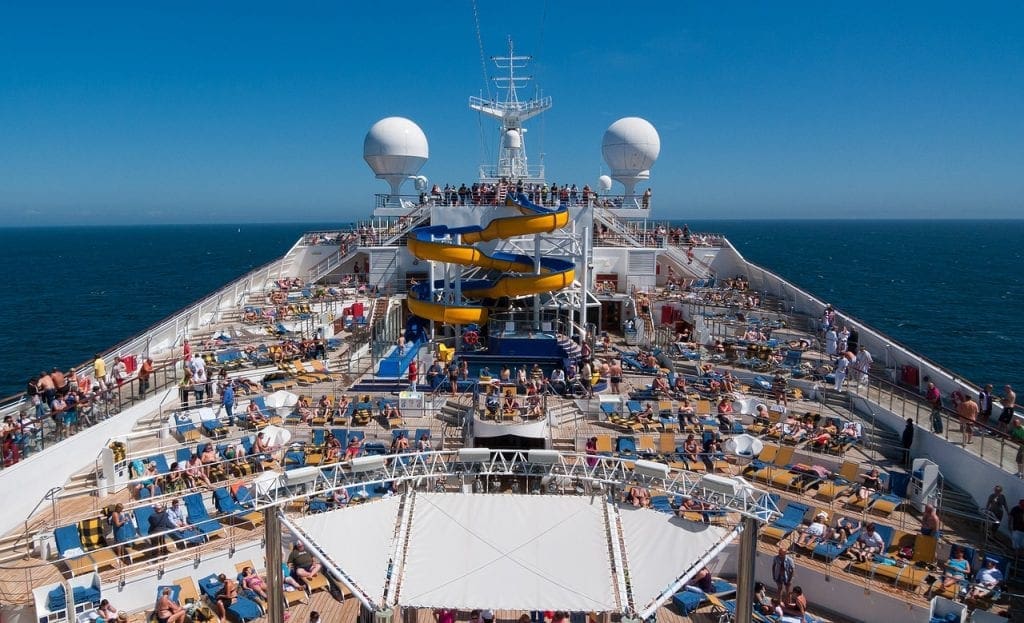 Ease of attaining: Not too hard, but patience is a must
Pay: $2000 – $3000 per month
Working on a large cruise ship or private yacht may seem like a spectacular way to see the world, but there's definitely work involved.
Have you ever seen those reality shows that follow the staff of high-end private yachts as they serve their high-end patrons? It seems like there's lots and lots of shouting and being shouted at that goes on. But of course, that's all reality tv, right?
In general your cruise ship patrons aren't going to be quite that rude. You'll just need to be fast, attentive, and always have a "the customer is always right" attitude. This is similar to the attitude needed if you're a flight attendant. Again, customer service isn't easy.
Some great perks are that your food, accommodation, transportation, and even insurance are covered while working on most cruise ships. Further, many also provide vacation time so you can travel on your own.
There are also a boatload (see what I did there?) of different types of positions available. As a result, you could work as a deck-hand, stewardess, chef, paramedic, entertainment manager, entertainment staff, engineer, and many more.
Additional Resources: Cruise Confidential: A Hit Below the Waterline: Where the Crew Lives, Eats, Wars, and Parties – One Crazy Year Working On Cruise Ships (Travelers' Tales)
6. Work from your laptop as an affiliate marketer
Ease of attaining: Must be self-driven with focus
Pay: With the right training there's no ceiling to what you'll earn
More than likely, you're reading this article from my website WorkFromYourLaptop.com, so take a wild guess which of these 6 job choices I'm partial to.
While working for someone else is the norm, working for yourself can be much, much more rewarding. Being your own boss can be a huge game changer when it comes to traveling abroad.
Forget taking care of kids and teaching English, sign me up!
Of course, when you're your own boss, there's no one to make sure things get done but you, so you'll need to be self motivated and driven. This is where having an entrepreneurial mindset can take you far.
So what kind of business can you build without products or services of your own and a mindset to succeed? Say hello to affiliate marketing. Affiliate marketing is all about connecting people with what they're already looking for. If you've ever bought anything online or read a review that lead you to buy something from Amazon, Best Buy, Target, or any number of trusted merchants online, then you've probably participated in affiliate marketing without even realizing it.
Further, you can create your affiliate marketing business in any niche you choose. Build an online business around your passion and you may never feel like you're working. Whether you're a photographer who'd love to share and sell your work online, a freelance writer, travel blogger, fitness enthusiast, yoga instructor, chef, personal coach, video gamer, or anything really, this is a great option.
First, you'll need to understand how to build a website. But with the right training building your own website on the right platform can be done quickly and free.
There's a reason I'm partial to this choice when it comes to jobs you can travel with. That's because this is how I fund my travels.
In the last year and a half I've been to Tokyo, Greece, Australia, Thailand, up & down the U.S. west coast, Rome, Venice, London, Barcelona, Mallorca, & Amsterdam. For the remainder of 2018 I've booked Bali, Switzerland, Iceland, Tokyo (again), & Dubai. (Shameless plug alert:) If you love travel photography, follow me on Instagram @batmantravels. I'm seriously addicted to travel and I love sharing my photos.
The point of this is, there's no way I'd be able to travel so much without having found the best training platform and mentoring community for building your own successful affiliate marketing business online. You're taught how affiliate marketing works, how to build your own website, and most importantly how to build traffic and turn that traffic into consistent monthly revenue.
I fell in love with it because after finding other platforms that seemed to want to bleed your bank account dry instead of actually teaching you affiliate marketing, this one lets you take it for a test drive first free.
You can see why I recommend it over all others. Create your free starter account through my link below and you'll get me as your personal support coach as well. I'd love to help you in every way I can and I hope to see you on the inside!
Helloooooo neverending vacations!
---
---
Additional Resources: My Profile at Wealthy Affiliate
Feedback
There you have it. 6 jobs that let you travel all over the world. Let me know what you think, would you? Are you a travel addict like I am? What jobs have you picked up along the way to extend your vacations?
Do you have an even better option to add to this list? Tell me in the comments below. Ask me anything. Share your story. Ask me any question you like about how I've done it. I enjoy responding and I look forward to hearing from you.
The post 6 Jobs That Let You Travel Internationally and How to Land Them appeared first on WORK FROM YOUR LAPTOP.
Original source: https://workfromyourlaptop.com/jobs-that-let-you-travel