Welcome to my Wow Earnings review!
I recently came across a GPT (Get Paid To) site called Wow Earnings and thought I would take a look to see what this site has to offer.
If you have questions like "Is Wow Earnings a scam?" or "can I make money with Wow Earnings?", then you are in the right place because here you will find the truth about this money-making opportunity.
In this Wow Earnings review, I will show you what this is about, how it works, whether or not it can benefit you, the red flags I've found and more.
Wow Earnings review
---
Name: Wow Earnings
Website URL: wowearnings.com
Owner: SBG Media Inc.
Created in: 2003
Price: Free to sign up
Overall Ranking: 3/10
---
If you're sick of scams, check out my 1st resource to make money online here!
---
What is Wow Earnings about?
---
I was kind of surprised to find out that Wow Earnings has been around since 2003 because most money-making opportunities don't last that much. That's why I thought it was legit at first, even though the website's layout looks old.
Wow Earnings is a website that claims you can get paid for reading email advertisements, clicking on banners, referring friends and signing up for "exciting" offers (paid surveys, free trials, filling in forms…).
They even claim you can earn $25 in 12 minutes, which is kind of overhyped when we take into consideration that GPT platforms don't pay that much.
The homepage contains some claims that are not realistic if we take into account that making money online is not easy.
For example, they claim you can earn up to $25 per offer, earn $5 for signing up and make $0.10 just for reading emails. 
I've read similar claims in other sites that turn out to be scams, but I didn't want to think Wow Earnings was like the others so I ended up joining.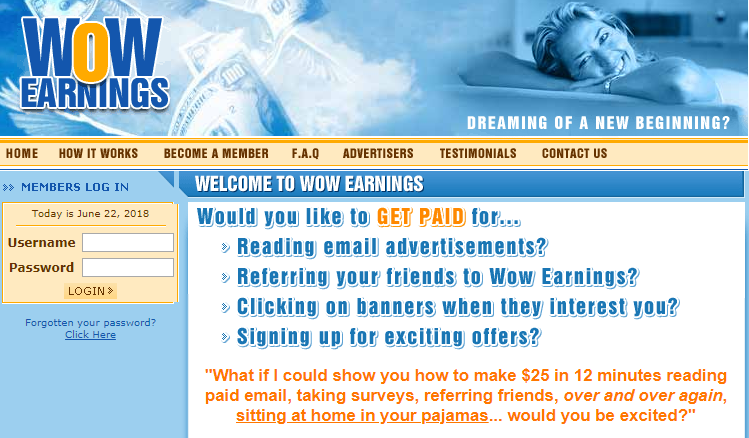 How does Wow Earnings work?
---
Wow Earnings is free to register. You only need to fill out a form with a first name, a last name, an email address and a password.
They say that you get a $5 bonus for signing up, but I didn't receive anything.
After joining, you will get access to a list of tasks to complete. It looks like this:

These tasks involve taking surveys, filling in forms, signing up to other sites… All of this takes way more than 12 minutes, especially paid surveys.
According to them, you need to complete all the tasks in order to earn $20.
Remember that in the homepage they claim you can earn money for clicking on banners? Well, the problem is that there's nothing in the paid-to-click section, so there's no money to be made for clicking banners.
What about the referral program?
---
They also claim you can earn money by getting other people to join through the affiliate link you get after signing up.
According to the information on their site, you can make money from your referrals and the referrals of your referrals. 
$3 whenever one of your referrals requests a payment.

$1 when a referral of your referral requests a payment.
The minimum payout threshold is $25 which is a little bit high if we take into account that there's not much money to be made for completing offers. 
So I will not be sharing my referral link because Wow Earnings is not a platform I believe in.
I believe that some people who sign up will get discouraged after realizing that it's not that easy to reach the minimum payout threshold, so some will stop trying to make money from that platform.
If you think about it, why spend a lot of time on something that cannot make you much money? It's easy to get bored and tired of doing these tasks when you see that you are not earning much, unless you love taking surveys and completing offers. 
Apart from it, some people might have a problem when trying to sign up for the first time. In my case, the first time I tried to register to Wow Earnings, I got taken to opiniongateway.com (another paid surveys site), so I had to be a little bit patient when trying to sign up to Wow Earnings.
Click Here To Get My FREE Step-By-Step Earn Money Online Guide!
Is Wow Earnings a scam?
---
I don't believe Wow Earnings is a complete scam because they don't ask for payment, but I personally didn't like it for several reasons.
I've found some red flags that indicate this platform is not as good as it seems when you first land on their homepage.
The owners don't show up
---
One of the reasons why I do not trust this platform 100% is because the people behind it don't show up.
It's owned by an advertising company named SBG Media Inc., but there's no information about them on their website.
I checked out the "about us" but there's not much information. They claim to be an industry leader with over a decade's worth of experience, but they don't mention their names or show any pictures of them.
Whenever I come across a website or money-making opportunity, I like to know who are the people behind it because it helps me determine whether or not to trust it.
But this is not all. I searched for opinions about this company and found out that is has the lowest BBB (Better Business Bureau) rating, not to mention that they have two complaints on Glassdoor.

The website is not secure
---
The reason why I decided not to use my personal details to sign up is because the wowearnings.com domain is not secure (without the padlock), which means that the information you provide is not safe and can be easily stolen.
An outdated testimonial
---
I checked out their testimonials section and got kind of disappointed, to be honest.
Firstly, there's only one testimonial!
Secondly, there's no way to verify if the testimonial is real or fake because there's no picture of him.
Thirdly, the website provided by the testimonial no longer exists! I clicked on the link and it says that the domain is for sale, which leads me to believe that this testimonial is from years ago.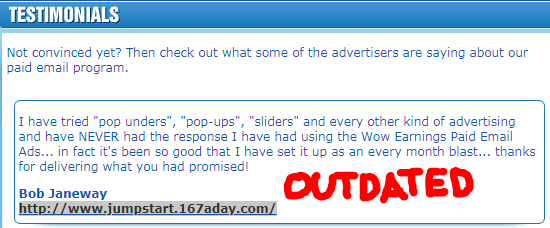 What about real testimonials or reviews? The only complaint I found is not even new, it's from 2010. You can click here to read the full complaint.
Broken links
---
Another thing I don't like about Wow Earnings is that many links no longer work and it seems to have been out of date for a long-time.
For example, the links from the advertisers section are broken: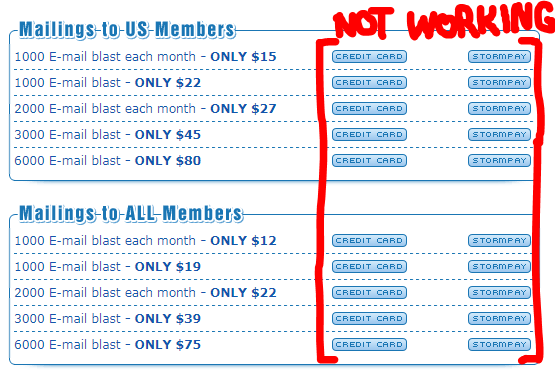 So what if someone wants to pay for some advertising? They can't.
Another sign that this is outdated is the fact that they mention PayPal, E-gold and StormPay are new online payment methods.
LOL! PayPal has existed for many years already and StormPay no longer exists. So I believe it's time that they make some updates.
Low-income potential
---
Another reason why I'm not going to spend time on Wow Earnings is because the income potential is low. 
Paid surveys and other offers are just a way to make extra money, not a full-time income. 
Not only that, paid surveys is very time-consuming and harder than it seems because it's not easy to qualify. I remember the first time I started taking paid surveys I got discouraged because I spent some minutes trying to complete them but didn't qualify for most. 
So yeah, you might get excited when you get a survey to complete but end up getting tired if you don't qualify.
I wrote a post about taking paid surveys that you can check out here if you want to learn more about the topic.
A way to make a full-time income online
---
I definitely don't recommend Wow Earnings, but you are free to do whatever you want.
I don't believe it's a total scam like others that I have exposed, but I've reached the conclusion that it's not worth my time so I will not spend time on it.
I believe GPT sites are good for people who have some free time and want to make some extra cash, but it's not for people who are looking for a way to make a job-replacing income online.
I personally prefer to dedicate my time to something that can make me passive income, that's why I decided to build an online business.
I love the business model I use because it allows me help people while making money and also lets me work from wherever I want with a laptop and Internet connection.
It's a business model that doesn't require you to create your own products because it takes advantage of the millions of products that are being sold online.
With that being said, building this business takes commitment, work and time, but it's worth it in the end. I have no words to explain how it feels when you reap the rewards and see all your work pays off.
There are many things I love about this business so I created a FREE step-by-step earn money online guide where I explain what I and other people do to make a consistent income online:
In my guide, I explain how this business works, why it works, what you need to make it work, how to get started…
And I also reveal how you can get started for free =) Yes, you can check it all out without spending a dime.
To add to it all, you will not only get help from me, you will also be supported by a huge community of like-minded people who really want to see you succeed!
Looking forward to seeing you start building your online asset today!
CHECK OUT MY FREE EARN MONEY ONLINE GUIDE HERE!
I hope you have found this review helpful you will make the best possible decision concerning Wow Earnings. Feel free to share this post with whoever you believe that will benefit from it!
If there's something else you want to know or you have any questions, don't hesitate to leave a comment below and I'll get back to you ASAP! 

Best wishes =)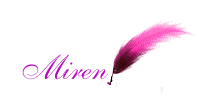 Original source: https://himoneybyescams.com/is-wow-earnings-a-scam-its-very-outdated-honest-review