SocialCash.club is a scam! TRUTH in this review
Welcome to my SocialCash.club review!
You have stumbled upon a website called Social Cash Club and are wondering if this website is great to earn money online, right? Or perhaps you are skeptical and have questions like "is SocialCash.club a scam?" or "will I get paid?".
As you may know, they are many scams out there and they come in different forms. That's why I need to congratulate you for taking the time to do your research! This is the way to avoid scams and find the real way to make money online!
Let me be honest with you, SocialCash.club is a scam, just like I said in the title of this post. 
The purpose I have with this review is to explain why SocialCash is a fraudulent website, the red flags that I've found and point you in the right direction.
SocialCash.club review
---
Name: SocialCash
Websites: socialcash.club
Owner: Hidden
Price: Free to join
Overall Rating: 0/10
---
If you're sick of scams, check out my 1st resource to make money online here!
---
What is SocialCash.club supposed to be?
---
According to the information on the SocialCash.club website, you can make money for completing simple tasks and getting other people to join SocialCash.club.
This is what you can allegedly earn:
$25 after signing up

$10 per referral

$5 per every click on your referral link

$15 for every survey that you complete
It sounds like an amazing GPT (Get Paid To) platform because they pay is very high.
I personally never heard of another GPT site like this. Well, the ones that I've come across have turned out to be scams.
They claim to send payments via PayPal when each member has reached the $150 minimum payout threshold.
SocialCash.club tries to convince you that it's the perfect platform for everyone to start making hundreds of dollars online because:
It doesn't require you to have any special skills or prior experience.

It's free to join

All you have to do is to share your referral link on social networks, something that anyone can do.
In general, it sounds like the ideal platform to make money online and the fact that it doesn't look like the typical scam makes it very tempting to try it out.
I mean, if it's free to join why not try it out? 
Well, the truth is that it's not as legitimate as they want you to believe and it's way more dangerous than you would think.
How SocialCash.club really works
---
SocialCash.club does not work to help you earn money. It basically works to make money to the unethical people who have created it.
How do I know this? The moment I came across this platform I realized that SocialCash was another name for other scams that I have exposed in the past.
I have also found some red flags that prove there's something about this platform that's not right.
The owners don't show up
---
What about the people behind this platform?
I checked out the "about us" section but they don't mention their names and don't show any pictures of themselves. 
Whenever I come across a website or platform, I like to know who has created it because it helps me determine whether or not to trust it.
The fact that the owners of SocialCash.club don't show up is an indication that they are trying to hide something. Why don't they want us to know who they are? 
I mean, if they platform is that good, shouldn't they be proud and reveal their identities?
"As seen on" is fake
---
They want you to believe that they have been recognized by well-known media companies like CNN, Fox, ABC… 
But I can confidently say that this is a complete lie. They have nothing to do with those companies.
How do I know it's fake? Well, I did some research and did not find any connecion between SocialCash and those companies. 
If you click on those logos, you aren't led to any articles or anything that proves they're connected to those companies.
All they want is to gain credibility so that you end up joining their site.
High-income claims
---
Another indication that this is a scam is the high-income claims they make like "you can earn $500 today".
Firstly, GPT (Get Paid To) platforms are not the way to go to make a full-time income online. These platforms are good to make some extra cash.
Secondly, making money online doesn't happen fast or easily. No matter the way you try to earn money, it will not happen the same day you join or purchase something.
People who claim you can make money in a short period of time are lying to you, so I suggest that you avoid anyone who promises easy money.
They are taking advantage of the fact that they know there are people who need urgent cash and don't know how making money online works. 
It's possible to make $500 a day and even more, but it's definitely not going to happen by using a GPT platform or without doing any work.
If it were that easy, don't you think that most people would have already made a fortune online? And many people would have quitted their 9 to 5 jobs already.
Lack of support
---
What if you have some issues or questions concerning SocialCash.club? There's no one you can contact because the contact details they provide are fake.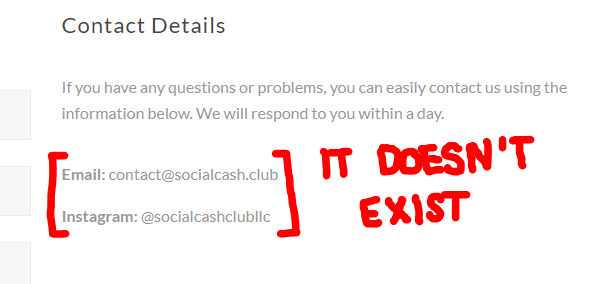 I checked out their Instagram account by that username but it does not exist, so they are not on social media.
I also sent them an email to test if it exists but it doesn't. That email address is fake.
As you can see below, I received the "mail delivery subsystem" message telling me that my message to contact@socialcash.club could not be sent:
"El mensaje no se ha podido enviar" means that the message could not be sent.
So there you have it. Why would a legitimate company lie about their contact details? It's clear that the owners of SocialCash.club don't want to hear from us.
If they cared about us, they wouldn't have lied about something important. They would provide a good customer service or would have told us another way to get in touch with them.
More lies
---
Is there something that's not fake about SocialCash.club? Everything I've seen about this platform is a complete lie. 
They also lie about the years they have been in business and the members reviews.
They claim to have been around since 2008, but this is not true. I checked out the socialcash.club domain information and I can say that they have been around since December 2017.
The fact that they exist since December 2017 proves that the members reviews are invented. There's no way people have joined this platform in 2012 because it didn't exist back then.
If their platform is that good, why did they invent the comments? It's clear that they are trying to hide the truth. 
During my research, I did not find any genuine positive reviews about this platform. If it were true that they have been around since 2008, don't you think there would be some positive reviews?
Click Here To Get My FREE Step-By-Step Earn Money Online Guide!
Is SocialCash.club a scam?
---
Would you call a website that has many red flags a scam? 
I don't know about you, but after having discovered all these lies, I have to call SocialCash.club a scam.
The moment I came across this platform, I knew it was a scam because I found it out after writing "paid2share.me" on the search bar.
Paid2Share.me was another scam platform that has been changing its name multiple times, and it seems that SocialCash.club is the current name for this scam.
In fact, I remember this scam went by other names like TeenCash (TeensMakeCash.com) and TeenMoney (TeensPaidMoney.com), which I exposed some months ago.
They shut down but they also claimed they had been around since 2008 and also told the other lies that I exposed.
The reason why these scam sites change their names is to prevent potential victims from finding honest reviews like mine. I will not get surprised if they change the name for SocialCash.club soon.
What these scam artists really want is to get as much personal information as possible. The reason why they let you join for free is to make it easy for you to enter your email address and other personal details. 
And then, they tell you to invite other people to join their site to get their email addresses. 
Wondering what they will do once they have collected lots of email addresses? They will sell them to other companies or con artists. That's how they make money.
If they at least compensated you for your efforts, then there would be nothing wrong. But they will never pay anyone so I will not waste my time on sharing my referral link.
Another thing, if you have signed up to SocialCash.club with your main email address, expect to receive emails from people you don't know.
I don't recommend that you open those emails because some might contain links to other fraudulent websites or malware files.
By selling your personal details, they are definitely putting you at risk for identity theft.
The way to say bye to the scams
---
After everything that I have explained, I highly don't recommend SocialCash.club.
I have seen many people share their referral links on social media, so I hope they stop doing that because they are only going to make money to the scam artists.
If you know someone who is promoting SocialCash.club, I would appreciate that you shared this post with them so that they realize that SocialCash.club is a scam.
When it comes to making money online, there are more scams than legitimate money-making opportunities.
The more you look for ways to make money easily or fast, the more scams you will run into.
As I said before, there are no ways to earn money quickly or without putting in the effort. Making money online is not like the scammers want you to believe.
After trying many ways to make money online, I have come to the conclusion that it's best to build an online business that makes money for many years to come.
Back in 2016, I found a business model that has given me a way to earn a consistent income month after month. In fact, there are many people who are making a living online using this exact business model.
I didn't make a dime overnight and I had to put in the effort and time to start making money, but it's worth it in the end.
There are many things I love about this business model, so this post would be too long if I had to explain it all now lol. I created a FREE step-by-step earn money online guide that you can check out if you want to learn more:
In my guide, I show you how this business works, why it works, what you need to make it work, how to get started…
Not only that, I also show you how to get started for free! Yes, you can see how it all works without spending a penny =)
I also let you know that you will not be alone in this! The place I introduce you to has a huge community of like-minded people that want to see you succeed.

Not to mention that I will also give you my personal help and support =)
If you are committed to putting in the work, I believe you can achieve success in this business!
I'm so excited for you to stop wasting your time on scams and get on the right way to make money online!
CHECK OUT MY FREE EARN MONEY ONLINE GUIDE HERE!
I hope this review has been helpful to you and you will make the best possible decision concerning SocialCash.club. Don't hesitate to share it with whoever you believe that will benefit from it!
If there's something else you want to know or you have any questions, feel free to leave a comment below and I'll get back to you ASAP! 

Best wishes =)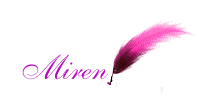 Original source: https://himoneybyescams.com/socialcash-club-is-a-scam-truth-in-this-review