Is Writing To Wealth a scam? My SHOCKING DISCOVERY revealed! [Review]
Welcome to my Writing To Wealth review!
I recently got sent an email concerning Writing To Wealth so I thought I would check it out to see what this is about.
If you are wondering if Writing To Wealth is going to help you make money online or have questions like "is Writing To Wealth a scam?", you are in the right place because here you will find the truth about this product.
I'm going to reveal what this product is about, what this product includes, how it really works, whether or not it can benefit you, something that got me shocked, the red flags I have found and more!
Writing To Wealth review
---
Name: Writing To Wealth
Website URL: writingtowealth.com
Owner: Hidden
Launched in: June 2018
Price: $34 + upsells & downsells
Overall Ranking: 24/100
---
If you're sick of scams, check out my 1st resource to make money online here!
---
What is Writing To Wealth about?
---
The moment I came across Writing To Wealth, I thought it was another low-quality/scam product because the sales page looked very similar to other sales pages that are being used for low-quality products.
But we can't judge a book by its cover so I took the time to do intensive research and ended up purchasing this product to learn more about it.
Writing To Wealth is a platform that claims you can make money for writing blog posts and short articles about the topics you want.
According to the information on the first sales page, all you need to do is to join Writing To Wealth, choose between thousands of available jobs, claim a job and submit your work to get paid.
The people who will pay you for writing are companies or individuals who need help with their blogs/websites.
Writing To Wealth tries to convince you that you can earn at least $100 a day, not to mention that they try to get you excited when they claim to have made $325 for a single writing job.
They also make these claims that make it very tempting to join:
"Start earning money today"

"No experience required to join"

"Set your own hours"

"Earn an excellent income"
Everything they say sounds great because it seems like anyone can do this and make a living without doing much work, but the truth is that they basically tell you what you want to hear.
In their sales pages they only talk about the writing jobs database that you are going to get access to, but they don't say anything else about what their membership includes so it's kind of misleading.
I mean, paying $34 for a database is not worth it because you can find writing jobs platforms for free by doing a little bit of research. Some of these platforms are WriterAccess.com, Freelancer.com, Upwork.com, Fiverr.com and iNeedArticles.com.
Also, why would you pay to get a job? 
If they actually explained if their membership includes training or tools that can help you in some way, then it would be easier to determine whether or not their membership is worth $34.
To be honest, I'm not surprised that they don't tell us everything we are getting because this is what I've seen in other ClickBank products. Most low-quality/scam products don't tell you what they are exactly selling. 
For example, I did not know what I was getting for my money after purchasing these products listed below:
Paid Social Media Jobs

Kindle Sniper

The Ecom Formula

Tube Profit Sniper

60 Minute Profit Plan
How does Writing To Wealth work?
---
Truth be told, Writing To Wealth doesn't work as easily as they make it seem in their sales pages.
I was curious to know what they provide for $34, so I ended up buying this program.
The members area
---
After paying $12 (I got two discounts when trying to leave the page), I got access to the Writing To Wealth members area where you can find the following:
A step-by-step getting started guide of 38 pages

"Articles and tips" section

Members bonuses

The Writing Job database

"Writing contests" section

"Write for magazines" section 

"Other ways to earn" section

A list of customer service jobs
I have to confess that I first thought I would get access to a database and that's it, so it surprised me the fact that there's more stuff included in the members area.
They recommend that you join HireWriters.com, which is a platform that you can join for free without paying for the Writing To Wealth membership. The problem with this platform is that they don't pay much for articles, especially to beginners, and sometimes they terminate people's accounts for no reason.
I guess the reason why they insist that you join HireWriters.com is because they are affiliated with them, which means that they make money when they refer people to HireWriters.
After taking a look at all sections and everything I could find inside their members area, I decided to note what I liked and what I didn't like.
What I like
---
The Writing Job database. Even though the writing jobs can be found online for free, I like the fact that the database is up to date so you can find new jobs every day, and it can save you some research time.
"Writing Contests" section. I like this section because they list to poetry contests, writing contests and book contests that offer the chance to win great prizes. I noticed that some contests are not available anymore but most of them are so I thought there's more good than bad in this section.
What I don't like
---
"Page not found" for the "free money making website"
They recommend that you get a free website, so I checked out what this was about but I got led to another page where it said "page not found".
They recommend low-quality/scam products
The "other ways to earn" section is just a list of ClickBank products that are low-quality. 
In fact, the first two products are not even available anymore which is an indication that they were scams. 
I'm sure the one that claims "earn $867 in one day with this secret system" is a scam because programs that claim you can make money fast or easily end up being scams, not to mention that this program is not authorized by ClickBank anymore.
The second program "Get Cash For Surveys" was a scam paid surveys site which does not exist anymore.
So why do the owners of Writing To Wealth recommend these products? 
The truth is that they are affiliated with them so they will make money if someone purchases them through their affiliate link. 
There's nothing wrong with making money from other people's products, but the fact that they promote scam products tells me that they don't really care about us making money. They just care about their own benefit.
In my opinion, a better name for the "other ways to earn" section would be "other ways to lose".
Some of the bonuses are tutorials and videos about ways of making money online, but the truth is that they are PLR products, which means that the owners of Writing To Wealth have not created these products.
The problem with these products is that they contain incredibly outdated information, that's why they can be found online for free or for a low price.
"Articles & tips" section
I actually like this section because some of the tips are useful, but what I don't like about it is that at the end of each article they list websites that don't exist anymore. This means that some of information from those articles is out of date.
"Write for magazines" section
The first time I took a look at this section I thought it was good, but then I started clicking on the links to see what magazines they recommend and most links were broken.
The step-by-step getting started guide
This guide contains 38 pages and goes over important topics, but the problem is that it's very outdated (it's from 2007) and has nothing to do with Writing To Wealth. It looked like a PLR ebook, honestly.
There's a lot of information on their site and there are no training videos that explain what to check out first or what to do step-by-step, so it's easy to get lost and distracted without knowing your direction. 
Not to mention that the fact that some information is outdated and some links are broken makes it even more misleading and confusing.
Click Here To Get My FREE Step-By-Step Earn Money Online Guide!
Is Writing To Wealth a scam?
---
No, I wouldn't call Writing To Wealth a scam because they provide something for your money and their database can save you some research time if you are looking for writing jobs.
You might make some money with HireWriters or other jobs from their database, but when it comes to the section "more ways to earn", I don't recommend it to you because everything they list are money-making scam/low-quality products.
Another thing is, it's not that easy to get a writing job because there are usually many people who apply for those jobs, so it will take you some time to get your first writing job. The more jobs you apply for and the more freelancing sites you join, the faster you will get your job.
Getting chosen is not that easy because you need to submit samples of your work and cannot copy other people's articles or use softwares that create articles for you.
With that being said, I want to point out some red flags that I have found because they indicate this is not as legitimate as it appears to be.
No information about the people behind Writing To Wealth
---
Whenever I come across a money-making product or website, I like to know who has created it because it helps me determine whether or not it's trustworthy.
The fact that the people behind Writing To Wealth don't mention their names and don't even show a picture of themselves is a red flag to me, since it indicates that they are trying to hide something. They don't want us to know who they are.
I don't know about you, but I don't trust products whose owners don't show up.
They make false promises
---
The fact that they claim you can earn $325 on a writing job after getting started is a scam sign because they make it look easier than it is.
When you are starting out, there's no way you can already get a job that makes you $325. When you register to writing platforms, you will still have no experience so you cannot expect to get the high-paying jobs.
Apart from that, I don't like the fact that they make fake claims in the email swipes they provide for affiliates.
For example, they claim you can make $20 in 10 minutes, as you can read below: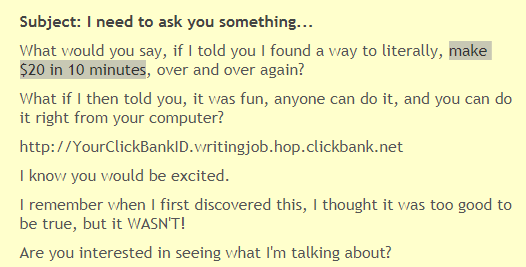 The truth is that it's not possible to earn money just after getting started because you first have to register to platforms, apply for jobs, submit samples of your work… It definitely takes time.
I personally will not be promoting this product because I don't like the misleading and fake claims they make to get other people to purchase it.
False scarcity
---
Another lie is that companies need writers in Spain and that the discount is only available today.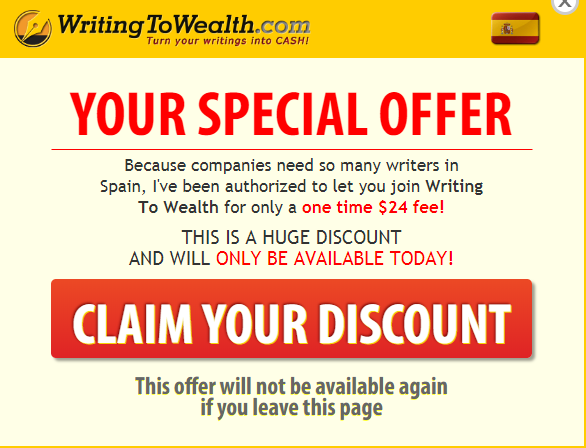 Firstly, it doesn't matter where you are from to make this work for you. I'm sure that if you are from the United States, it will say something like "companies need so many writers in the Unites States". The page detects your location so it will say one country or another depending on where you live.
Secondly, you can exit the page the amount of times you want and come back whenever you want and see that it says the same thing.
The truth is that they claim this is only available today to get you to purchase it as fast as possible. This is one of the oldest tricks in the book.
My discovery: It's connected to another low-quality program
---
While doing my research, I noticed that their page for affiliates was very similar to another page I had come across before.
I remember that some hours before researching about Writing To Wealth, I was researching about Take Surveys For Cash which is another low-quality/scam product that also makes false promises
The thing is, both Writing To Wealth and Take Surveys For Cash have a similar sales funnel. You can observe the similarities below: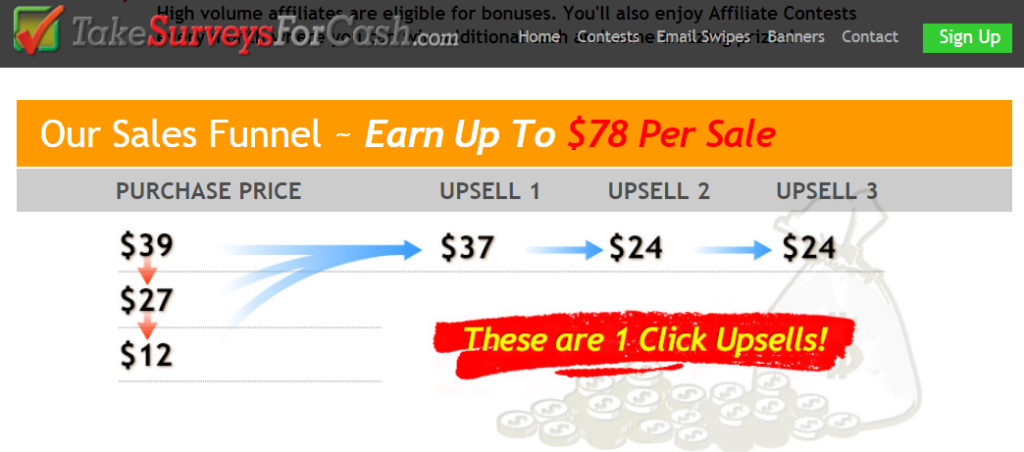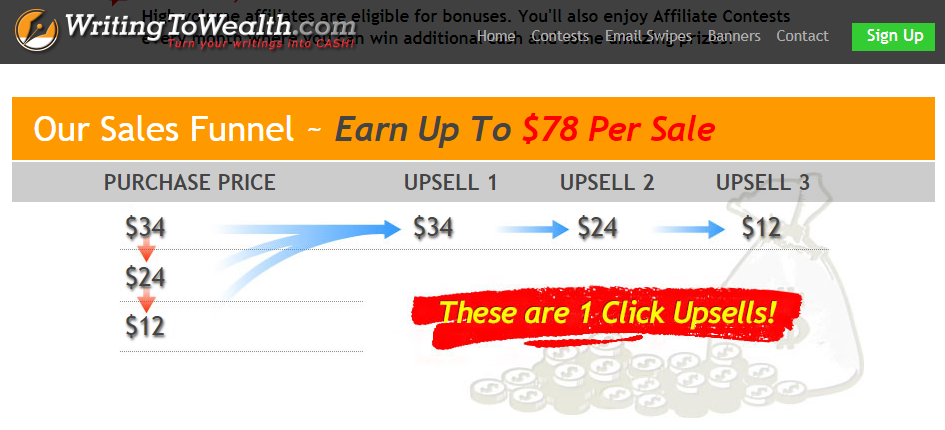 Shocking, isn't it? Both claim you can earn $78 per sale, both have 1 click upsells, both use the same layout and the same colors.
Also, you need to be careful with these one-click upsells because it means that they don't require you to enter your payment information to charge you. If you click the accept offer button, they will instantly charge you.
This is kind of misleading because it can make people lose more money.
Because of this, I believe that the owners of Take Surveys For Cash and Writing To Wealth are the same people.
In fact, I noticed that one of the low-quality programs that Writing To Wealth recommends is Take Surveys For Cash.
What if you write to make passive income?
---
After everything I've explained and found, I don't recommend Writing To Wealth, but the final decision is up to you. 
The good thing is that it's a ClickBank product so you can ask for a refund in case you end up getting it.
Writing for other people can earn you money, but the truth is that there are limits to what you can earn because the amount of writing jobs you can do is limited. 
So don't you think that it would be better to build an online business that requires you to write but also has the potential to make you passive income?
I mean, writing for other people only enables you to get paid depending on the amount of jobs you do, which means that if you stop writing, you will stop making money.
But when it comes to an online business like the one I have, you can make money from an article that you have written months/years ago, which means that you can earn money for something that you have done once. This is called passive income.
I'm not a professional writer and English is not even my first language, but I still manage to earn a consistent income month after month. So if someone like me can do this, I believe you can do it too!
This business takes a lot of work and time but the rewards are great, so it's worth it in the end. 
There's a lot to say about what I do so I decided to create a FREE step-by-step earn money online guide where I explain how it all works:
In my guide, you will learn how this business works, why it works, what business model I use, what you need to build this business, the step-by-step training and tools you need, how to get started…
And I also show you where to get started for free and get free step-by-step training and tools! Yes, you don't need to spend a dime to check it all out for yourself =)
On top of that, you can rest assured knowing that you're not alone on this! You will also get lots of support and help from me and a big community of experts and like-minded people.
I'm so excited for you to leave the scams behind and get on the right way to earn money online!
CHECK OUT MY FREE EARN MONEY ONLINE GUIDE HERE!
I hope this review has been helpful to you and you will make the best possible decision concerning Writing To Wealth. Don't hesitate to share it with whoever you believe that will benefit from it!
If there's something else you want to know or you have any questions, feel free to leave a comment below and I'll get back to you ASAP! 

Whatever you do next, I wish you the best =)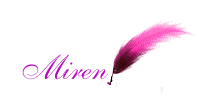 Original source: https://himoneybyescams.com/is-writing-to-wealth-a-scam-my-shocking-discovery-revealed-review