Is VSN Cash System a scam? What others HIDE from you…
Welcome to my VSN Cash System review!
Have you been invited to join the VSN Cash System a.k.a. Viral Success Network but don't know if it's the right thing to do?
Maybe you have questions like "is VSN Cash System a scam?" or "will this system help me make money online?".
Well, as you may already know, there are many scams out there and they come in different forms.
That's why I need to congratulate you for taking the time to do your research before buying into another "make money online" product. This is the way to avoid the ugly scams and find the real way to earn money online!
To be completely transparent with you, I'm not an affiliate of the VSN Cash System so you will not see me promoting it to you.
In this review of the VSN Cash System, I will explain what this system is about, how it really works, what other people have not told you and more.
VSN Cash System review
---
Name: VSN Cash System or Viral Success Network
Websites:
vsncashsystem.com

viralsuccessnetwork.com
Created in: 2012
Owner: Desmond Akil Smith
Price: $97.99 + upsells 
Overall Ranking: 32/100
---
If you're sick of scams, check out my 1st resource to make money online here!
---
What is the VSN Cash System said to be?
---
I came across this VSN Cash System while I was doing some research about another online money-making program. 
If you have been following me for a while, you know that I constantly review "make money online" websites and products so I knew I had to take a look at this VSN Cash System to see if it was different than most programs I've reviewed.
According to the information on the VSN Cash System homepage, this is an amazing system that can make you $500 per day online.
It sounds like the perfect system because you don't need any special skills or previous experience in the Internet marketing industry.
This is a done-for-you system that works on complete autopilot so you will be able to start earning money fast without doing much work. 
Well, that's what they say… 
I've watched many YouTube videos about this system and it seems that many people are loving it. 
But is it for real? I mean, I've noticed that people who are talking positive about this system are affiliates that are looking to make money from this system. 
Truth be told, there are things that you need to know but they don't tell you, that's why I'm going to explain how this really works and other truths.
How does the VSN Cash System work?
---
The VSN Cash System is a "done-for-you" system that provides tools and training to help you promote the same system and earn 50% commissions for each sale you make.
In other words, you will have to sell the same system you buy into in order to make money.
But it doesn't work as easily as they tell you, which I'll explain in a bit.
The business model
---
This program is geared towards affiliate marketing, which is a legitimate business model.
If you haven't heard of it, your job as an affiliate marketer is to promote other people's products and earn commissions when people purchase these products through your affiliate link.
In order words, you will work as an intermediary between companies/vendors and customers.
Affiliate marketing can be a very lucrative business model when done the proper way. There are many people who have been using this business model to make a full-time income online.
The training
---
The VSN Cash System offers three packages:
Basic package – $97.99 (this is what you have to pay to get started)
This package includes the following training modules:
Learning the basics (beginner)

Why Affiliate Marketing (beginner)
Info Marketing + Affiliate Marketing
Promote Your Link (VSN Affiliate) beginner
Affiliate Forwarding with GoDaddy (Advanced)

Fast Traffic To Your Page (very easy)

Facebook Friend Script (Advanced)
The training is decent but it's geared towards promoting the VSN Cash System. The two first modules are more general but the rest are about the VSN Cash System.
When it comes to the 6, they recommend that you buy a domain name on GoDaddy that you can then redirect to your VSN Cash System affiliate link. 
Desmond, the owner of this program, will earn a commission if you buy the domain through his affiliate link.
In the 7 module, they recommend that you buy one of the solo ads traffic packages from this system. In the Viral Success Network checkout page I found the cost of each package:

The last module is a script that you can use to get your Facebook friends to purchase the VSN Cash System, but it's very simple.
So, apart from the $97.99 initial fee, you can expect to spend over $60 counting the domain name and the solo ads package.
This package includes goes over the following:
What is Affiliate Marketing (advanced)

Learn how to set up your own funnel (advanced)

Set up your Aweber account (advanced)

Clickfunnels + Aweber (advanced)

Click Magick (advanced)

How to set up page (Tracking Link) (advanced)

How to use text marketing

How to get more traffic
You will basically learn to set up your sales funnel with Click Funnels, link it to Aweber and use Click Magick to track your traffic and conversions.
Click Funnels, Aweber and Click Magick are not free to use. They cost $97/month, $19/month (500 subscribers or less) and $12/month (starter plan).
So, after paying $197.99 for this package, you will have to spend $133/month or more.
If you buy into these three services they recommend, Desmond Smith will earn a commission every time you make a payment, since the links provided in the training are his affiliate links.
One-on-one coaching package – $997
Can you make money with VSN Cash System?
---
You might earn some money, but not as much as they claim because the training and tools provided are not enough to reach the level of income they talk about.
In fact, most people do not make more than they have spent on the training.
If you end up purchasing the three packages, you will spend more than $1000 if we also take into account the services they recommend. And there's no guarantee that you will make that money back.
The truth is that this system is not automated, not newbie-friendly and carries a certain level of risk because:
You need to constantly get other people to buy into the system in order to make money. There's no button that you can push to make this system make you money. If you stop trying to get other people to purchase this system, you will stop making money eventually.

The fact that they don't provide training on how to get traffic from other sources, means that you will have to buy into the solo ads packages which doesn't guarantee that you will make any sales. 

There's no guarantee that your sales funnel will get high conversions because there are important factors that they don't explain in the training.
In my opinion, this program is for people who already have some experience in the Internet marketing industry because the training is basic and not step-by-step, so beginners can get easily lost.
It's also for people who have enough money to invest because running a business like this is not cheap if you do the math.
Click Here To Get My FREE Step-By-Step Affiliate Marketing Guide!
Is VSN Cash System a scam?
---
The answer to this question actually depends on your definition of a scam.
If you define a scam as something that doesn't live up to its promises, then the VSN Cash System or Viral Success Network would be a scam because it doesn't work as an automated income system, like I explained earlier.
However, if you define a scam as something that takes your money without delivering nothing, then this would not be a scam because you get some training and tools for your money.
So is VSN Cash System a scam?
In my opinion, this is another low-quality program like many others that I have reviewed. For example, the following products/programs are not total scams but are not great either:
Success With Anthony

Writing To Wealth

KDL Sniper

Social Sale Rep

60 Minute Profit Plan
With that being said, I want to point out some red flags that I have found and other things that I consider you need to know about this program.
A fake testimonial
---
In the affiliate access page, you can see a picture of a woman who is supposed to be a member of this program. She supposedly claims this is the best product ever and it's simple, easy and automated.
Well, I can tell you right now that this woman has nothing to do with this program. She's not a real member and she might not even have heard of this program.
The truth is, the people behind this program have downloaded this woman's picture from other websites to create a false testimony.
Want some proof? I did an image search and found out that this picture is available in multiple different websites.
Another thing, this program is not simple, easy or automated like they say. They are basically telling you what you want to hear.
As I explained in the previous section, this program doesn't work on autopilot and definitely requires you to put in the work.
Desmond Smith was an Empower Network affiliate
---
Desmond Smith, the creator of the VSN Cash System, used to promote Empower Network when it was still in business.
If you haven't heard of Empower Network, it was a high-ticket program that shut down in August 2017. Many people ended up losing money since they could not make it back.
Desmond Smith founded the Viral Success Network in 2012 and used it to promote Empower Network, and a year after that he also created the VSN Extreme, which ended up failing.
According to the vsncashsystem.com domain name, the VSN Cash System was created at the beginning of 2018. It's basically the new version of the Viral Success Network because both are geared towards selling Desmond Smith's solo ads packages.
A $60 increase for only 112 minutes of training?
---
I discovered that the VSN Cash System used to cost $37.99 when it was launched (without taking into account the cost of the solo ads packages, one-on-one coaching, advanced training package and other tools), but now it costs $97.99.
Why has its price increased $60? Because they have added two videos of e-commerce training, which last 112 minutes in total.
The training covers the following:
Choose a product in AliExpress 

Create a Facebook business page to promote that product.

Find pictures and videos of the product and post them on the Facebook page you have created.

Link the Facebook page to a Many Chat account (tool to sell the product through Facebook messenger).

Set up a Facebook ads campaign to promote your Facebook post concerning the product.

Set up an online store on Shopify.com.

Connect your Shopify store to Dropified

Buy a domain name on GoDaddy. This domain name should be related to the product you have initially chosen to promote.

Connect your domain name to your Shopify store and Dropified.

Sell your product on Shopify.
The problem with this training is that it's not thorough, which means that they don't go over some important details. 
There are many factors to take into consideration when it comes to building an e-commerce business, but they don't explain everything in detail.
I personally don't like that they tell you to spend money on Facebook ads and then on Shopify and Dropified. 
I mean, why can't they offer more insights into Facebook ads? It would be better if they provided more training regarding a specific topic (Facebook ads in this case) instead of jumping to another topic.
Spending money on ads without knowing what you are doing is very risky. 
Not only that, Desmond did not earn any money from the examples he shows in the videos. 
I personally believe that he created these videos to promote Shopify and Dropified, since he earns commissions when people make purchases through his affiliate links.
In general, the training is low-quality and doesn't go over everything you need to know to make money with e-commerce.
Because of this, I don't believe this e-commerce training is worth $60. 
They are marketing it as a fast way to make money online
---
I don't like the fact that they claim this system is easy to make money with and that you can earn your first dollars fast, since this is not true.
The truth is that there's no system that will make you money without putting in the effort, so I suggest that you stay away from programs or systems that promise you can start making money in no time.
If you think about it, most people would already have earned a fortune online if it were that easy.
It's connected to another scam
---
While watching one of the sales videos, I noticed that it said "Instant Income At Home" instead of Viral Success Network or VSN.
You can see it below: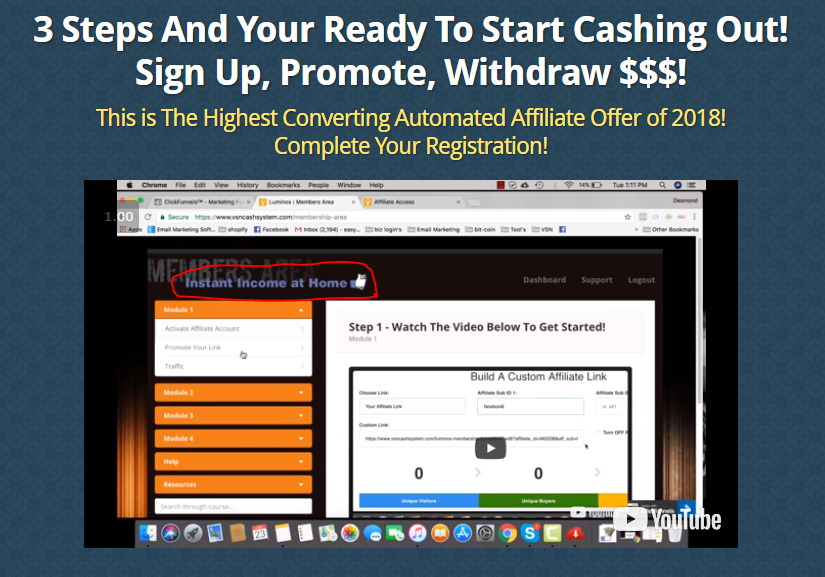 That's why I believe that the VSN Cash System is connected to the Instant Income At Home scam page, which I exposed some months ago.
I'm actually 100% convinced that VSN Cash System affiliates are using the Instant Income At Home scam to promote this program, since I found that one of these affiliates is promoting the Instant Income At Home link on an Instagram account.
After reviewing many "make money online" opportunities, I have noticed that marketers use fake one-page websites like Instant Income At Home to promote other programs like the VSN Cash System.
Why do they do that? Because they don't want potential recruits to know what they are really getting involved with.
Learn to build a real online business!
---
I have to conclude that I don't recommend the VSN Cash System for several reasons.
Firstly, they use unethical tactics and make fake claims to get you buy into the system, so I personally don't trust people who are not honest about their intentions.
Secondly, they are not teaching you to build a real online business. The training revolves around promoting this system to others, you would be helping Desmond grow his business instead of building something that you own.
Done-for-you programs and systems are not the way to go if your goal is to make money online for the long-term, since these kind of programs keep you dependent.
I've reached the conclusion that the best way to make a substantial income online is to build your own online business.
As I said earlier in this review, affiliate marketing is a great business model for beginners or people who don't have thousands of dollars to invest.
I love the fact that this business model allows you to choose products or services that you love to make money from. 
There are many things that I like about affiliate marketing so I decided to create a FREE step-by-step affiliate marketing guide where I explain it all:

In my guide, you will learn what you need to build this business the proper way, the method I use to make money, why this business model works, how to get started…
And I also show you how you can get started for free! Yes, you don't need to spend a dime to check it all out for yourself.
Not only that, you will also learn how to drive free organic traffic to your offers so you don't need to spend thousands of dollars on advertising.
I'm so excited for you to start building your own affiliate marketing business! You will not only get my help and support, other affiliate marketers will be there for you as well =)
CHECK OUT MY FREE AFFILIATE MARKETING GUIDE HERE!
I hope this review has been helpful to you and you will make the best possible decision regarding the VSN Cash System. Don't hesitate to share it with whoever you believe that will benefit from it!
If there's something else you want to know or you have any questions, feel free to leave a comment below and I'll get back to you ASAP! 

Whatever you do next, I wish you nothing but the best =)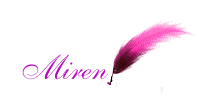 Original source: https://himoneybyescams.com/is-vsn-cash-system-a-scam-what-others-hide-from-you