Welcome to my 30 Day Success Club review!
I recently was sent a link to the 30 Day Success Club sales page (30daysuccess.club) so I thought I would look deep into this to find out what it's really about.
If you are wondering if this program is the real deal or you have questions like "is 30 Day Success Club a scam?", then you are in the right place.
I need to congratulate you for doing your research before getting involved in another "make money online" program. 
As you may already know, there are many scams out there so doing your research is the way to avoid scams and find the real way to earn money online!
In this review, I will show you what 30 Day Success Club is about, how it really works, the red flags that I have found, what others haven't told you and more.
30 Day Success Club review
---
Name: 30 Day Success Club
Websites:
30daysuccess.club

30daysuccess.review
Owner: "Debbie Joven"
Launched in: July 2018
Price: $37 + upsells
Overall Ranking: 16/100
---
If you're sick of scams, check out my 1st resource to make money online here!
---
What is 30 Day Success Club supposed to be?
---
The moment I landed on one of the 30 Day Success Club sales pages, I thought it was another "too good to be true" product like many others that I have reviewed in the past.
But I did not want to think it was like the others so I watched the sales video and did intensive research to come to conclusions.
The spokesman claims you are going to discover a little known secret that people are using to make millions of dollars every year. How exciting, right?
Then we are introduced to 3 people who have supposedly used this amazing system to change their lives.
The fact that the spokesman does not mention his name is something that already tells me something doesn't feel right with this system.
We are introduced to Debbie Joven, who allegedly went from broke to millionaire in a year thanks to this method. 
The way she explains it makes it sound like this is an easy method to make a living online. 
In fact, she claims she's going to give it away for free and can start making money the same day you try it out. Doesn't it sound awesome?
After having reviewed hundreds of make money online opportunities, I have realized that there are more scams than legitimate programs out there. 
And I can tell you that 30 Day Success Club is no different from these low-quality ClickBank products that I have reviewed:
Five Minute Profit Sites

Easy Insta Profits

Smart Money Methods

eCom Profit Sniper

60 Minute Profit Plan
They just tell you what you want to hear to get you excited and purchase this product, which does not work like they claim and I'm going to explain why.
How does 30 Day Success Club work?
---
30 Day Success Club doesn't work like they want you to believe. It really works to make money to the people who have created it.
The business model this program is geared towards is legitimate but the problem is that they are not using the right way, which I'm going to explain in this section.
The business model
---
The way you are supposed to earn money with this program is through affiliate marketing, which is a business model that I personally use to make money, so I know how it works.
As an affiliate marketer, your job will be to promote other companies' products and earn a commission when someone purchases a product/service through your affiliate link.
There are many companies that have affiliate programs so there are millions of products to earn money from.
There are also many ways to do affiliate marketing, but 30 Day Success Club does not teach you to do it the proper way. They are taking advantage of the fact that there are people who don't know how it works just to make money themselves.
How 30 Day Success Club allegedly works
---
After paying the $37 initial fee, you will get access to a software that you will use to build a website.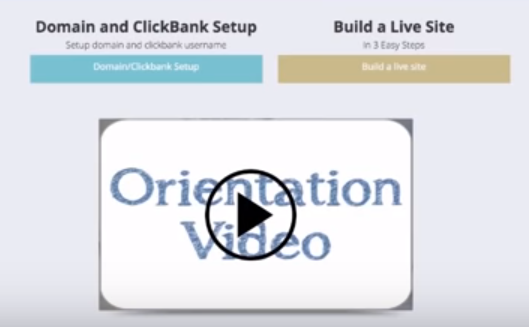 These are the steps to take to make this method work:
Type a domain URL into the software.

Type your ClickBank username (you will have to open a ClickBank affiliate account in case you don't have one) and click save.

Type a name for your website.

Type some keywords for SEO.

Write your site's description and that's it! 
The website will be similar to this one:
Your website will be full of ClickBank products that offer some kind of freebie to get people to subscribe to your email list or purchase something.
You will have to bring targeted traffic to your website so that people see your offers and take action on them.
All the products have your affiliate link embedded, so you will earn a commission when someone buys one of those products through your affiliate link.
The problems with this method
---
Even though this method looks attractive because it doesn't require you to do much work, it will not work for several reasons that I'm about to explain:
The quality of the products
The kind of products that your website is going to be filled with are ClickBank products, which are known to be low-quality. Not all of them, but many of them are low-quality and I know this because I've been reviewed many of these products.
When a product doesn't provide value or doesn't live up to its promises, the clients' satisfaction will be low, not to mention that some people will even ask for refunds. 
You might earn some bucks but the problem is that your website visitors will not take you seriously if they see that you are promoting products that can't solve their problems or meet their needs. That's why this is not good for the long-term.
If you are looking to build a long-term online business, you need to make sure that the products/services you are promoting can help your audience.
Lack of important information
I noticed that the website they created does not have an "about" page that people can check out to know more about you and your website.
The fact that the website created by the 30 Day Success Club software doesn't give you the option to create a page about yourself is a red flag because it means that your visitors will not be able to know you.
How are they going to buy from you if they don't know who you are?
If you put yourself in the shoes of your visitors, would you trust a website whose owner/s don't show up? I personally wouldn't trust a website whose owners hide, since I have realized that lots of the websites that don't talk about their owners end up being scams.
The website will not get targeted traffic
Another problem is that the website is designed in a way that cannot get free organic traffic from search engines like Google and Bing.
Why? Let me explain.
The website doesn't have any unique, valuable content on it, which is key to get high rankings for your site. Search engines do not like websites that do not provide original and relevant content, that's why your website will not get ranked and people will not find it.
There are other ways to drive visitors to your site but they will not work either.
You can try to do paid advertising, but your ads will not get approved by Google or Facebook because they don't support websites that have no content or valuable information.
30 Day Success Club provides you with a guide about free traffic sources like posting on forums, posting on social media, leaving comments on blogs and YouTube videos…
These traffic sources might drive some visitors to your site, but the problem is that the traffic is not targeted so it will result in little or even 0 sales.
In order to keep bringing traffic to your site, you will have to spam your website link everywhere online, which will get you banned from posting.
You don't host your website
The website designed by the 30 Day Success Club doesn't have everything needed to work for the long-term.
They don't allow you to edit pages, create new posts or even change the theme. In other terms, they don't allow you to make any changes which is a red flag because it means that you cannot grow your website.
Even if you earn some money from that website, it will eventually stop because you cannot improve anything and you will be left with nothing if 30 Day Success Club shuts down or the owner takes down the hosting.
This is why 30 Day Success Club is not a good product if you are looking to build a viable and sustainable online business.
The conversion rate will be low
The website created by the 30 Day Success Club software is filled with different kind of ClickBank products but nothing else.
When people land on your website, how are they doing to know what to do? There are no pages or posts that guide them.
That's why you can expect them to get confused or lost and leave the website, which means that the traffic will not convert so no sales will be made.
If they don't find what they need, why would they stay? You wouldn't spend your time on a website that doesn't provide what you need, would you?
The upsells
---
Just like most ClickBank products, 30 Day Success Club will bombard you with 3 upsells after paying the initial $37 fee.
Upsell 1 – Email Compatibility. This will allow you to integrate an autoresponder like GetResponse or Aweber to build an email list so that you can promote the products to your subscribers. Price: $37.
Upsell 2 – 3x More Sites. They claim this one will enable you to build more websites. Price: $47.
Upsell 3 – Heatmaps. This one allows you to get analytics on your website like how many people are visiting your website and which pages they are visiting. Price: $47.
In my opinion, none of the upsells are worth it because of the problems I have mentioned earlier.
Why pay to build more websites if they all are not optimized to get targeted traffic and have no valuable content?
Why pay to know which pages people are visiting if you cannot make any changes to improve user's experience?
Another thing I don't like is the fact that they are not transparent when it comes to the cost. They first claim this is absolutely free but then you see it's far from free.
Why can't they be straightforward since the beginning?
Click here to check out my FREE affiliate marketing guide!
Is 30 Day Success Club a scam?
---
30 Day Success Club doesn't work like they say, just like I have explained.
Not only that, the sales page is very misleading and has some scam signs that I will go over in a bit.
The only good thing I see about it is the fact that you can get a refund because 30 Day Success Club is part of ClickBank. 
So is 30 Day Success Club a scam?
I'll let you be the judge.
Some people will consider 30 Day Success Club a scam because it doesn't live up to its promises and you will not make money within 30 days from using it.
Other people will not call it a scam because it provides something for your money and it's possible to get a refund.
In my opinion, 30 Day Success Club is a low-quality product like many others that I have reviewed:
30 Minute Money Methods

Profit With Alex

Writing To Wealth

The AZ Code

Tube Profit Sniper
With that being said, I'm going to point out some red flags and scam signs that indicate this product is not as good as advertised.
The testimonials are not real
---
Remember the people who appear in the sales video and say that 30 Day Success Club has changed their lives?
Well, these testimonies are not real members and haven't even tried this program.
From my experience, I can say that low-quality products like this usually have fake testimonies, who are basically actors who have got paid to recite the scripts given to them.
If you take a look at their disclaimer, you can confirm the testimonies are not genuine:
Another thing, 30 Day Success Club was launched yesterday (as of this review), so there's no way members are already having success.
Debbie Joven's story is fake
---
Another red flag is the fact that the spokesman or Debbie Joven do not show up.
I strongly believe that Debbie Joven is a fictional character used to market this product, so the whole story we're told is fake.
I did some image searches and noticed that they use stock images, so the story is not real.
For example, the girl who appears in the image below is not Debbie's daughter because this image can be found on multiple different websites: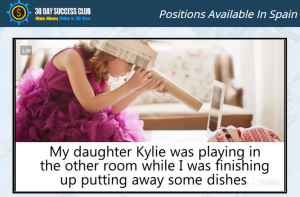 So how can we trust people who don't show up? How can we trust a product whose owners are not telling us the truth?
No privacy policy
---
Another thing I have noticed is that they don't provide a privacy policy page! I clicked on "privacy policy" at the button of the 30 Day Success Club sales page but I was led to the same sales page. 
This is another reason why I don't trust this product. The fact that they don't let us know what they are going to do with the information we give them is an indication that this is not 100% legitimate.
They are giving people false expectations
---
Last but not least, I don't like the fact that they are marketing this product as a get-rich-quick scheme.
I checked out their page for affiliates to read the email swipes but I don't like them because they are full of fake claims.
Let's see what I mean: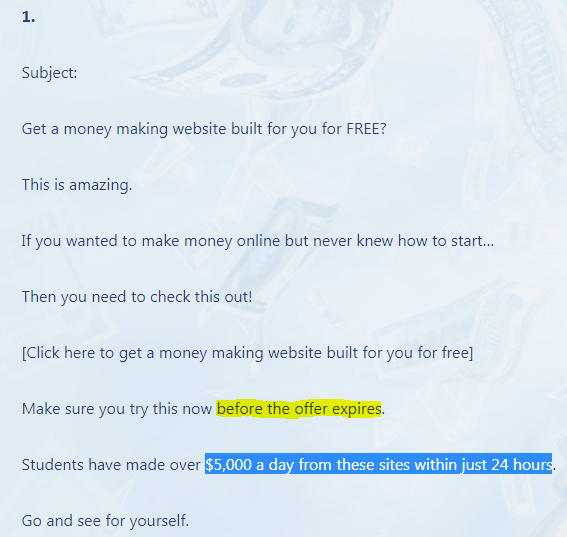 So they are telling their affiliates to tell their subscribers that they can earn over $5,000 a day the first day they get started, which is a complete lie!
They are also telling people this is free or that this offer is going to expire soon.
As you know, this is not free and I can guarantee that this product will still be available next month at the same price it is now.
I don't like people who spread this misinformation because they are giving beginners or unexperienced folks false hopes. Products like this are the ones that give the whole Internet marketing industry a bad reputation.
I personally will not be promoting this product and you will never hear from me that you can make money online the same day you get started.
I have already seen some "fake positive" 30 Day Success Club reviews from affiliates who are looking to make a quick buck.
Yes, it's possible to make $5,000 a day online but it requires a loooot of effort and time to reach that point and people who are making that kind of money haven't learned from products like this.
---
Because of everything I have explained, I have to conclude that I highly don't recommend 30 Day Success Club.
However, the final decision is up to you. You are free to do whatever you want with your time and money.
When it comes to earning money online, there are more scams than products I can recommend. 
I have tried many ways to make money online but it wasn't until I found about affiliate marketing that I didn't earn a consistent income online.
As I mentioned earlier in this 30 Day Success Club review, there are many ways to do affiliate marketing but not all of them are good if your goal is to make a full-time income online for the long-term.
I have realized that having your own website, providing valuable content, using the right keywords, knowing how to drive highly targeted traffic to your website is very important to build a viable affiliate marketing business.
That's why I created a FREE step-by-step affiliate marketing guide where I explain how the process works:

In my guide, you will learn how I make money with affiliate marketing, why this business model works so well, the training and tools you need to make it work, how to get free organic traffic to your offers…
And I also show you how to get started for free! Yes, not kidding, you will not have to spend a penny to decide if this is right for you.
Not only that, you will also receive free help and support from me and other affiliate marketers who want to see you succeed!
Are you ready to stop wasting your time on scams and start your affiliate marketing business today?
CHECK OUT MY FREE AFFILIATE MARKETING GUIDE HERE!
I hope this truthful review has been helpful to you and you will make the best possible decision. Don't hesitate to share it with whoever you believe that will benefit from it!
If there's something else you want to know or you have any questions regarding 30 Day Success Club, don't hesitate to leave a comment below and I'll get back to you ASAP! 

Best to you =)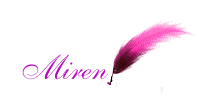 Original source: https://himoneybyescams.com/is-30-day-success-club-a-scam