You'd probably agree that one of the top "addictions" people have worldwide is the addiction to coffee. Some people can't live without it. Organo Gold is a multilevel marketing company banking on that fact. If you've seen this opportunity circling around your social media feeds you may be asking yourself, "What is Organo Gold Coffee?
The main issue so many people have with multilevel marketing opportunities is their business structure that closely resembles "pyramid schemes". But is Organo Gold coffee a pyramid scheme? And would a multilevel marketing business with coffee as it's main product be profitable? Or is the market already oversaturated?
If you've been looking into Organo Gold, then this article is for you. This Organo Gold coffee review (with video) will outline the Organo Gold compensation plan and detail the main Organo Gold coffee ingredients. I'll cover any and all Organo Gold health benefits, any Organo Gold coffee side effects, and answer the main question, "What is Organo Gold Coffee and can I make money with it?"
What is Organo Gold Coffee? Reviews & Compensation Plan 2018
Watch the following video and get an in-depth look into how Organo Gold works. If you're a coffee drinker like so many others, could this be a profitable venture for you? I'll cover the multi level marketing angle and the compensation plan as well before giving you my final verdict. Is Organo Gold a scam?
---
---
What is Organo Gold Coffee? How They Got Their Start
Organo Gold is a global network marketing company revolving around coffee with independent distributors in over 50 countries. It began in 2008 in Canada, with Bernie Chua heading this idea to infuse the Ganoderma mushroom into coffee and offer beverages, neutraceuticals, and personal care products.
After a few hiccups early on with not being able to distribute their product fast enough to keep up with growth, Chua brought on board Holton Buggs who was already very successful in network marketing in the past. Organo Gold relaunched in 2010 with better results. They are now a multi-billion dollar company.
The key ingredient in their products is the Ganoderma mushroom. It is called "King of the Herbs", and is used for many benefits in the Asian culture. It can be found in supplements, skin care and a host of other products around the world.
In essence, Organo Gold is a Ganoderma company using coffee as its vehicle. Coffee is the main seller, but there are other Organo Gold products like soaps, lotions, and even toothpaste, all with their key ingredient of Ganoderma.
What are the Health Benefits and/or Side Effects of the Ganoderma Mushroom? 
So, if you're looking into Organo Gold as a business opportunity, it'd be very important to determine the veracity of its main ingredient: the Ganoderma mushroom.
It's roots go way back in asian culture. Dr. Shi-Jean Lee, a doctor of the Ming Dynasty, wrote that "long-term taking of Ganoderma will build a strong, healthy body and assure a long life."
The Ganoderma mushroom has been linked to health benefits such as immune system support, cardiovascular health, antioxidant benefits, liver protection, antibacterial and antiviral benefits, lower cholesterol, and urinary tract support.
Some potential side effects from prolonged use of ganoderma (3-6 months) include upset stomach, nosebleeds, dry mouth, dizziness, and itching. Additionally, it is recommended to consult your doctor before taking ganoderma if you're pregnant or breastfeeding.
Is Organo Gold a Pyramid Scheme? How Does the Organo Gold Compensation Plan Work?
And now we get into the core of this review: Organo Gold's compensation plan. Multilevel marketing compensation plans tend to be a bit confusing at times. There are talks of downlines, strong legs, matching bonuses, etc. If you're familiar with other MLMs like Herbalife, ItWorks!, World Ventures, etc., then this will at least sound familiar to you.
If this is your first time looking into a multilevel marketing compensation plan, I'll try to explain it as best and as simply as I can.
Organo Gold uses a binary compensation plan that many MLMs use. With a binary compensation plan you're looking to create two legs of growth as you recruit other members into your organization to promote your product, in this case, coffee. As new members join your team, they also recruit in the same way you have.
You recruit, you sell, and you recruit some more. The big selling point made by all network marketing businesses like this one is that you not only earn commissions on what you sell, but also on what your downline sells as well. As you continue to recruit and add members to your team, your organization starts to look, well, like a pyramid.
While compensation plans like this one tend to not be sustainable for the long term, they are not illegal. As long as a product is being sold, you have a legitimate business on your hands. Organo Gold is not an illegal scam. They have their bases covered with a product many people worldwide enjoy.
So what's the catch with binary compensation plans? First of all, the big numbers they'll show you in their home presentations tend to occur very, very infrequently in any real world organization. The fact is that the vast majority of your downline will become dead ends, not successfully recruiting other members, thus not being profitable. This is confirmed by the Annual Disclosure Statement you'll see in a bit.
The main setback with the binary compensation plan is you only get paid on your lesser leg. Let me repeat that:
---
In the Organo Gold Binary compensation plan you only get paid on your lesser leg.
---
So if you find that stud in your organization who is a recruiting superstar and they explode your team, unless your right leg explodes equally, you miss out on a good portion of all that growth and compensation.
As someone who's worked in network marketing compensation plans before, I can tell you, finding those superstars is like finding a needle in a haystack. And with binary compensation plans, you need to find TWO and hope they land symmetrically in your organization, one on the left leg and one on the right leg.
There are also some minimum requirements your recruits have to meet each and every month. As I alluded to earlier, it's very common with most MLMs to end up with a number of "dead end" members of your downline who quit, move on, or just don't want to recruit anymore.
How Much Does Organo Gold Cost to Join?
You buy in with Organo Gold for $49 with their starter package.  This includes some samples and minimal marketing materials like a binder and pamphlets.  To take part in the compensation plan, you have to purchase a business pack and then help your recruits meet their minimum sales requirements. The prices escalate quickly from here.
Bronze Pack:
The Bronze Pack costs $150.00 and you'll get about $150 worth of wholesale products. You must maintain an autoship of product costing $50/month. This means every month you must order product for yourself. You are eligible to earn 10% in the compensation plan when your team meets specific requirements.
Silver Pack:
The Silver Pack costs $450 and you'll get about $450 worth of wholesale products. You must maintain an autoship of $100/month and you are now eligible to earn 15% in the compensation plan when your team meets specific sales requirements.
Gold pack:
The Gold Pack is the most expensive costing $1300. You'll get $1300 in wholesale products. Your autoship remains at $100/month, but you are now eligible to earn 20% in the compensation plan so long as your team meets specific sales requirements.
How Do You Make Money With Organo Gold?
The binary, or Dual Team compensation described above is the main way to earn with Organo Gold. You're going to be making profits on what you sell, and percentages of what your teams sells. When members join and meet minimum sales requirements you earn bonuses.
There are also other slightly confusing ways you can earn commissions. MLMs are notorious for having multiple ways to earn commissions that only a small percentage of distributors actually cash in on. Here's a brief description of each.
Retail Profit:
The first way is a very straightforward way of simply buying product wholesale and selling at retail. You can earn profits up to 50%.
Fast Track Bonus:
Earn $20-$120 on each Organo Gold Promotional Product Pack sold. (Paid Weekly)
Unilevel Bonus:
Receive bonuses from product orders and re-orders generated in your group, up to nine levels deep. (Paid Monthly)
Unilevel Matching Bonus:
Qualify to earn a percentage of the Unilevel Bonus earned by your Personally Sponsored Distributors, up to 4 levels deep. (Paid Monthly)
Generational Bonus:
You can earn additional bonuses as deep as four generations of qualified Sapphires and Above. (Paid Monthly)
Global Bonus Pool:
You can qualify in sharing 3% of Total Worldwide Unilevel Commissionable Volume. (Earned Monthly, Paid Quarterly)
---
It's ok if you don't fully understand each of these levels and bonuses. As with most MLMs, the vast majority of reps don't qualify for large portions of the overall compensation plan.
---
How Much Can I Realistically Earn with Organo Gold?
Here's your reality check for this Organo Gold coffee review.
Organo Gold is not a scam. These are real products you can sell and distribute for real profit. However, so many people look at MLMs as a way to escape the grind and have visions of lavish lifestyles working from home.
The fact is that very, very few actually make substantial profit with MLMs. The vast majority make a very limited amount of money. Unfortunately this is the trend with network marketing and multilevel marketing businesses. Take a look at the income disclosure below.
As you can see, over 86% of Organo Gold distributors make $0-$599 annually.
This amount wouldn't cover the cost of business which for someone who joined for $49 and bought the least expensive Bronze Pack for $150, then spent $50/month on their autoship. $600 in. $800 out. Not good.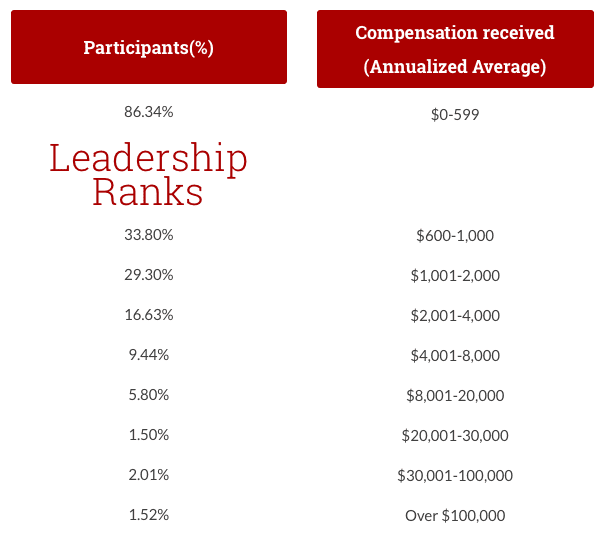 I think you'd agree that with this income disclosure, the remaining 14% are represented in a slightly misleading way. At first glance you may think that about 33% of all Organo Gold members make anywhere from $600-1000. But in actuality, this is 33% of the remaining 14%.
Does your brain hurt? I'm not a fan of how they've represented their income here, but even at these leadership positions, members are barely breaking even at the Bronze Pack, and are still substantially in the hole at either the Silver or Gold Pack.
This is the common bell curve with MLMs.
Is it possible to make money with Organo Gold? Yes.
Is it common to make substantial money with Organo Gold. The numbers point to "No".
Summary
Is Organo Gold a scam? Thankfully, no. As you've seen in this Organo Gold coffee review, Organo Gold does offer many products all infused with the Ganoderma mushroom with a variety of potential ways to earn revenue. While most of those ways to earn are built around recruiting, you can earn money without recruiting and just sell the products for profit.
However, like most MLMs, it is hard to sustain a business built around a binary compensation plan and recruiting. You simply need too many things out of your control to go just right to hit those big bucks.
In my opinion, unless you love to recruit, you should pass on network marketing and multilevel marketing opportunities. Their business models are rarely sustainable. If you're looking for a much more straightforward way to make money online you should dive into affiliate marketing. There's no recruiting, no downlines, and no depending on a team of people to earn consistent revenue. You're the boss. You have control.
Don't know where to start? The online community I'm a part of is, in my opinion, the best training platform and mentoring community for anyone looking to build a successful business online. I've had nothing but positives from it, and it's absolutely free to try.
---
Check out my experience here as I share how I enjoyed a $4k month in my first year with this platform.
---
Feedback
What questions do you have for me? Did this Organo Gold review answer your questions and concerns? Let me know what you think. Share your experiences. Are you an Organo Gold member who's beaten the odds? How'd you do it? Did I leave some key points out in this review? Feel free to let me know by sharing your viewpoint in the comments below. I'd love to hear from you.
The post What is Organo Gold Coffee? Reviews & Compensation Plan 2018 appeared first on WORK FROM YOUR LAPTOP.
Original source: https://workfromyourlaptop.com/what-is-organo-gold-coffee-reviews