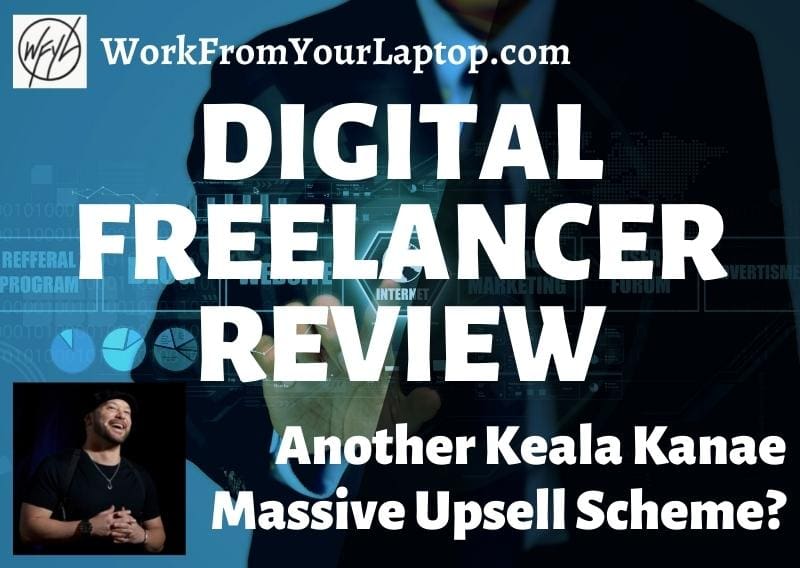 In this Digital Freelancer review I'm going to cover whether Keala Kanae's latest ad campaign is legit or just another massive sales funnel you'll be pouring money into.
Digital Freelancer Review – Is Digital Freelancer Legit?
In this Digital Freelancer review I'll show you how Digital Freelancer is simply an ad campaign by Keala Kanae running on social media that funnels you into his ultra high ticket internet marketing training course called Fullstaq Marketer filled with MASSIVE upsells.
Have you seen the ads for Digital Freelancer running on your social media platforms like Facebook and Instagram lately?
In them you see internet marketing guru Keala Kanae at an ATM showing you his account balance that "can't be faked".
You also see him opening the door and walking you into an incredible mansion (which may or may not be his).
And as he casually steps into a Lamborghini he explains to you his story of humble beginnings working in a coffee shop to now being the guru he is today.
If you're keeping score at home, that's 3 cheesy internet guru cliches used by Keala Kanae's Digital Freelancer ad campaign that you can put on your list of major RED FLAGS.
So, let's get started…
What is Digital Freelancer?
Digital Freelancer is simply an ad campaign by Keala Kanae that funnels you into the purchase of his latest high ticket training platform called Fullstaq Marketer.
Related Article at WorkFromYourLaptop.com!
Check out my full review of Fullstaq Marketer by Keala Kanae and see just how much money you'll have to spend to get all its training. Can you say MASSIVE UPSELL FUNNEL? Think upwards of 10k!
How Does the Digital Freelancer Ad Campaign Work?
So what happens if you click on the "Learn More" button in one of these Digital Freelancer ads you see on Facebook and Instagram?
This particular ad campaign is a little more complex than your normal one because there's two different versions depending on when in the week you come across them.
Let me walk you through the process.
The first version looks like this and is a simple email grab.
Ad Version 1
When you click on the Learn More tab it will take you to a page where you enter your email in exchange for a "Internet Marketing Secrets" pdf.
You can check out my video review at the top of the post to see this in action.
And once Keala Kanae has your email you can rest assured he will be using it.
It lands you into Keala Kanae's aggressive email sales funnel where you'll start receiving email after email. I was receiving 2 per day.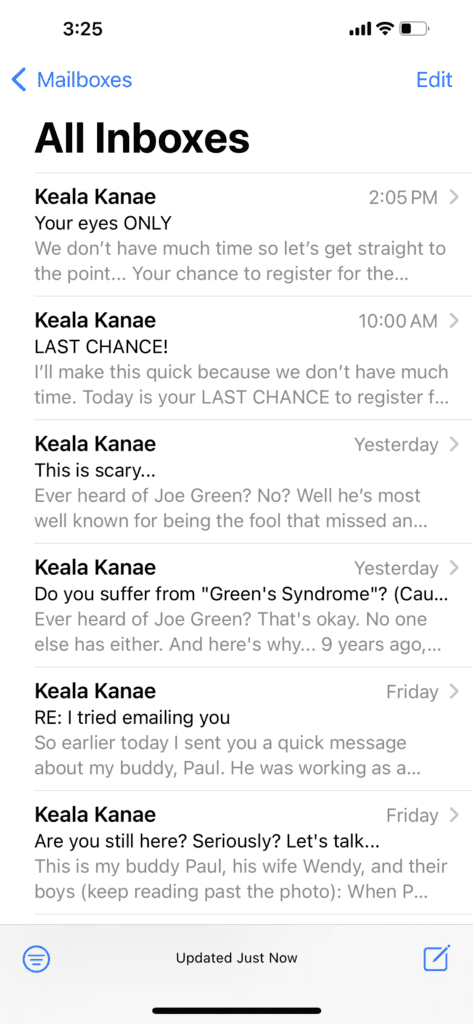 Each email's purpose is to get you to ultimately buy his very high ticket Fullstaq Marketer course that is absolutely FILLED with massive upsells.
More on that when we get to the "Digital Freelancer Complaints" subheading.
Ad Version #2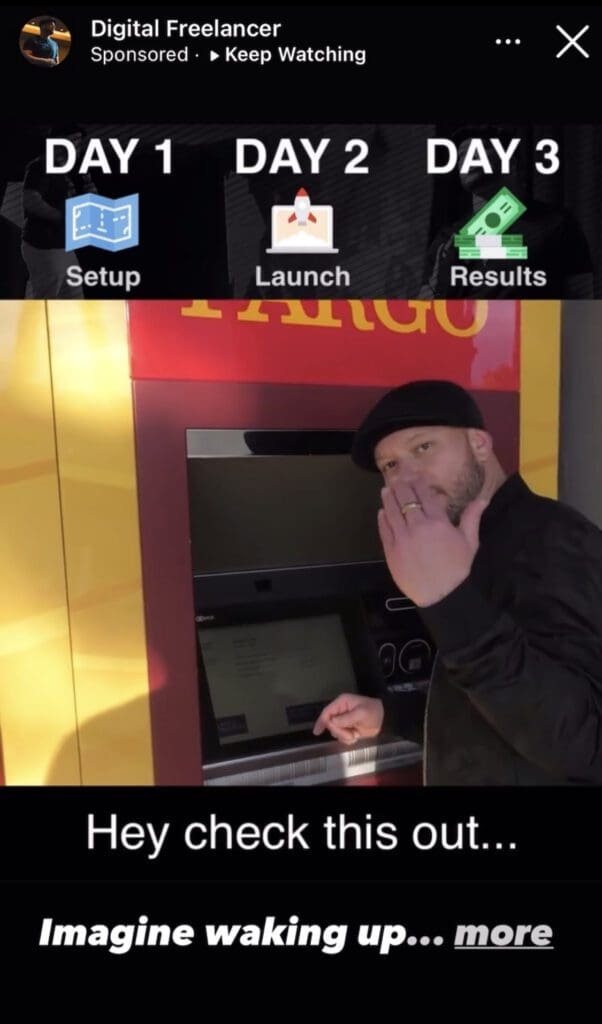 Notice the "Day 1, Day 2, Day 3" at the top of that ad?
This version takes you to a Digital Freelancer Business Launch Challenge that is supposed to happen over a 3 day period.
Want Affordable Affiliate Marketing Training that Actually Delivers?
Check out the affiliate marketing training platform I owe all my success to. It's straightforward, focused on you actually LEARNING, and you can even try it free first to see if it's a good fit! Got questions? Check out my detailed guide here: 70 Wealthy Affiliate Review FAQs ULTIMATE Guide!
How Does the Digital Freelancer Business Launch Challenge Work?
So when you click on this version of the ad instead of an email grab, you get this on your screen: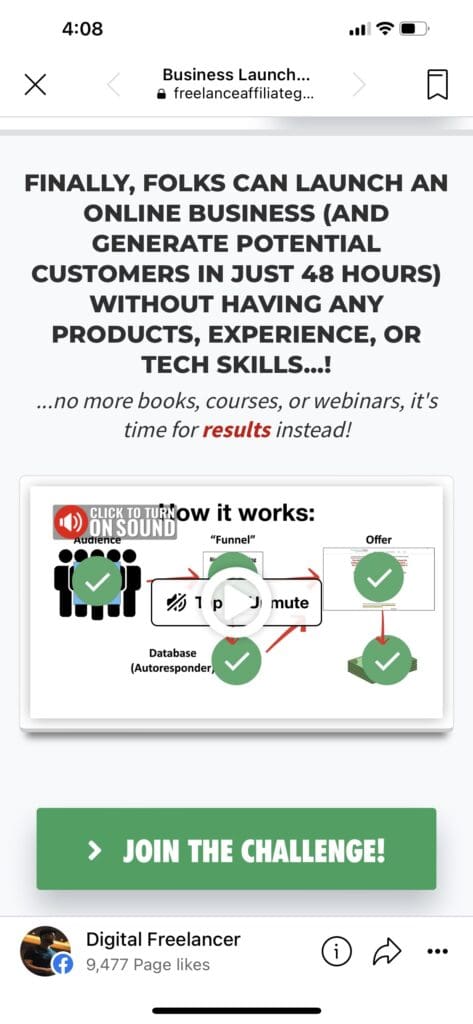 Remember to keep your eyes out for RED FLAGS!
The biggest one here? UNREASONABLE REVENUE PROMISES!
When you're launching an online business with no products, experience, or skills it is simply 100% unreasonable to expect to generate customers in 48 hours. Don't believe Keala Kanae's hype!
This version of the ad also gets some extra expenses out of you.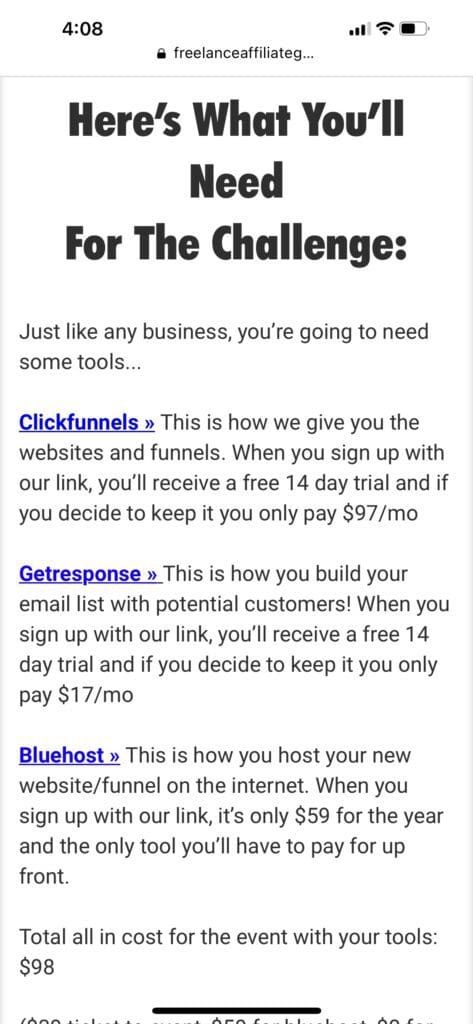 Here's something very important to note:
Even though Keala tries to assure you that these extras are risk free with 14 day trials associated with them, remember that the whole point of this Digital Freelancer Business Launch Challenge isn't to jump in and jump out, it's to stick with the program and build your business.
So understand that these charges are going to stick and be recurring. (ClickFunnels alone is approx $100/month).
And we haven't even gotten to Fullstaq Marketer yet where your expenses will be in the ballpark of $10k!
No joke.
Now it's time for another RED FLAG.
This time, the promise of a DONE FOR YOU business!
Ladies and gentlemen, this is a big one.
The promise of a Done For You business is simply an empty one. Bottom line.
You CANNOT expect to build any kind of successful business with the mindset that you can just "set it and forget it". Businesses of ANY KIND, both brick and mortar and online, take WORK.
If you're subscribed to my YouTube channel you're very familiar with this red flag. So many online training platforms promise Done For You business models that simply fall flat.
And when it comes to "Business Coaching" where this Digital Freelancer ad promises to have one of their "certified advisors" help you along, read this as "pressured sales call".
Check out the following subheading for proof on that.
Digital Freelancer Complaints
The absolute top complaint from any Keala Kanae course is the MASSIVE PRICE TAG associated with his training.
It always starts with the low buy-in followed by MASSIVE UPSELLS.
Customers don't realize they're going to be asked to spend $10k for training when they jump into what seems like a promising business opportunity. This truly isn't fair to the buyer.
It was true with Keala Kanae's AWOL Academy that imploded in 2017.
And it's true now with his latest Fullstaq Marketer platform (which is just an AWOL Academy reboot) with the same training modules and same ULTRA HIGH PRICING.
Check out this Digital Freelancer complaint that echoes what I just said. This person reached out to me on Instagram after I sent her a link to my review.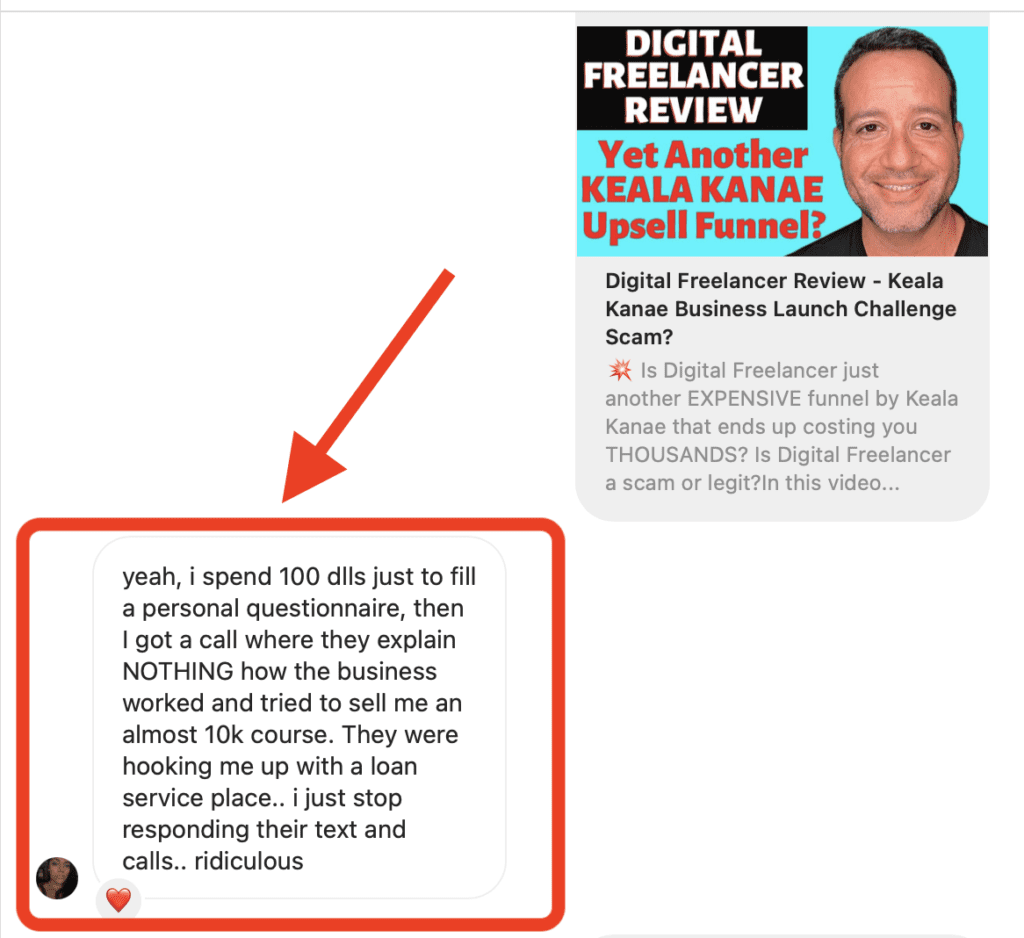 The "Certified Advisor" was literally asking to set her up with a loan service so she could jump into Keala Kanae's $10K course!
Unreal.
Are There Any Legit Internet Marketing Training Modules Out There?
I don't want to leave you with a sour taste in your mouth on internet marketing.
The truth is there are plenty of solid internet marketing training platforms out there that don't have these obvious red flags attached.
You just have to remember to follow your instincts.
When something sounds too good to be true, it probably is.
Avoid these obvious red flags when looking for internet marketing training and you'll be ok:
unrealistic revenue promises
"done for you" business models
all the "guru" cliches of mansions and sports cars
If you want to check out my top recommendation for learning affiliate marketing, check out my full review here on the training platform I owe all my success to.
You can even test drive it free first to see if it's for you.
Final Thoughts
Digital Freelancer by Keala Kanae is nothing more than a sales funnel that ultimately points you to buying his high ticket Fullstaq Marketer training platform. It's made up of 2 ad campaigns, each one with the same ultimate goal of getting you to spend tens of thousands. Don't fall for the hype!
If you're ok with that kind of pricing and sales tactics, more power to you. But if your gut is telling you to RUN, it's probably a good idea to listen to it!
Related Article at WorkFromYourLaptop.com!
Check out "Wealthy Affiliate Review 2022" for a full walkthrough of the affiliate marketing training platform I owe all my success to. Straightforward, AFFORDABLE, and it delivers! It's even free to try first so you can see if it's for you and you'll get me as your support coach!
Do you agree or disagree?
Let me know what you think in the comments section below! I always respond and look forward to hearing what you have to say!
Recent Posts
70 Wealthy Affiliate Review FAQs ULTIMATE Guide!

These are the 70 Wealthy Affiliate review FAQs you need to know about this affiliate marketing training platform before you join!

Digital Freelancer Review

Wealthy Affiliate Review 2022

In this Wealthy Affiliate review UPDATED for 2022 I'll cover everything you need to know about this affiliate marketing training platform including debunking common complaints and taking an inside look at how and why Wealthy Affiliate's training works.

Which Course is Best For Affiliate Marketing?

Which course is best for affiliate marketing? It's not always the high ticket "guru" you should follow. Check out this list of the best (and worst) out there!

What is Easy1Up?

What is Easy1Up? In this Easy1Up review you'll see how this bizarre scheme has way too many red flags to be taken seriously.
The post Digital Freelancer Review appeared first on WORK FROM YOUR LAPTOP.