This Wealthy Affiliate review for 2023 will showcase all the latest updates and substantial changes made to the affiliate marketing training platform so that this review is the most accurate and up to date you'll find.
As a 6 year vet of this platform, I'll break it all down in extreme detail, transparently, honestly, and I'll share with you proof in the numbers that the negative reviews fail to show you.
Wealthy Affiliate Review 2023
The newly streamlined 2023 Wealthy Affiliate allows new members to grow and build faster. With new free .com domain perks, better price points, and more available tools, it brings more value without the high ticket pricing of the competition.
If you have questions or disagree with any point I make, please let me know in the comments section below the article. I'm completely reasonable and I'd love to hear your feedback and questions.
You can also email me. I'm happy to help.
First Things First, Why Should You Listen to Me?
I found Wealthy Affiliate on my own in January of 2017. A firefighter since 2002, I had no background in affiliate marketing and had never built a website before.
Other Wealthy Affiliate reviews will claim that the training is outdated, that Wealthy Affiliate teaches bad SEO principles, that the websites you build are trash, and more. My response: my numbers don't lie.
Allow me to be as transparent as possible.
I put my head down and followed Wealthy Affiliate's training like a robot. It took me a few months to get going, but within the year I had consistent monthly revenue coming in.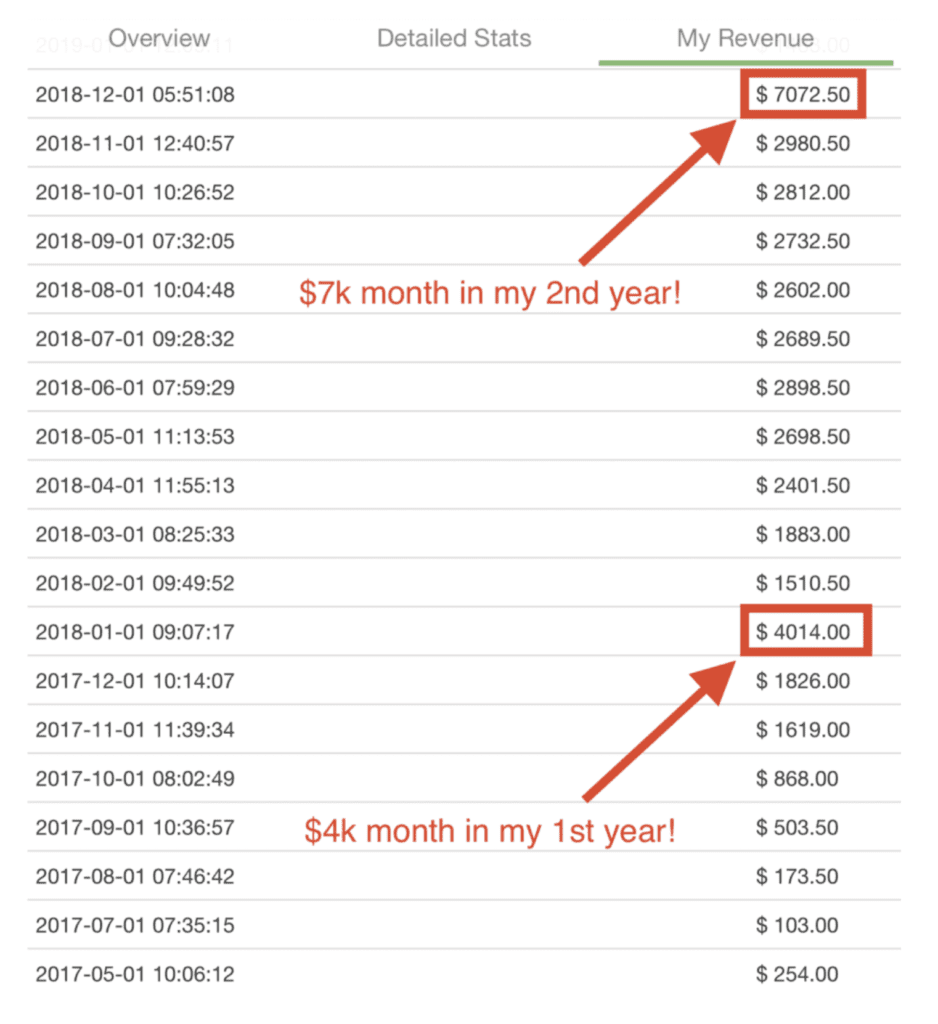 You don't build a website and earn thousands overnight. As you can see above, it took me several months to earn a commission.
This is completely normal.
The fact is this was the first "no nonsense" affiliate marketing training platform I found without the flashy "guru" red flags, massive upsells, and ridiculous, overnight revenue promises you see everywhere else.
6 years later it's consistent as ever. Here is my commission history for the last 6 months up to the time of publishing this review.
Here's a screenshot from the WA members' dashboard from a member sharing her Amazon Affiliate success. These are the numbers the negative reviews fail to share because they don't give the training time to do its thing.
So allow me to give you an honest perspective that digs just a little deeper than 2 weeks of "research".
In 2023 where does Wealthy Affiliate shine and where does it falter? What are the GREAT features and what are the annoyances? What does the training really cover?
Let's dive into this Wealthy Affiliate review so you can see for yourself!
If a firefighter of 20+ years who had never built a website before can be successful in affiliate marketing then anyone can.
How Does Wealthy Affiliate Work?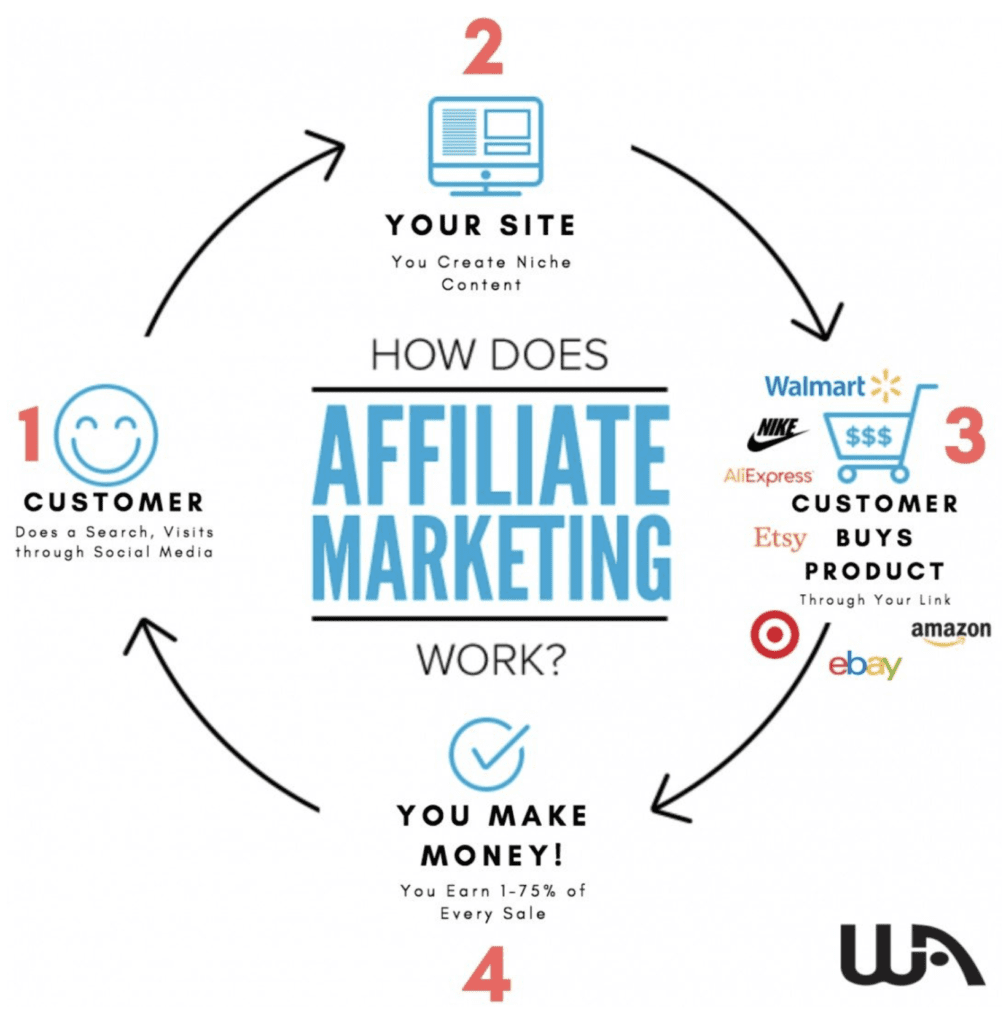 Wealthy Affiliate takes a straightforward approach to building a business online. It teaches how to connect people with the products and services they're already searching for in any niche of your choosing and across many platforms.
There's no need for product of your own or prior experience.
Do you know how many "affiliate marketing training platforms" out there only teach you to buy their high ticket platform and then turn around and resell it?
That's not affiliate marketing!
Wealthy Affiliate focuses on you ACTUALLY LEARNING all aspects of building an online business.
You'll have complete freedom to build your business based on any passions and interests you have (very important) and you'll have the tools, training, and resources to do it.
The 4 core steps to Wealthy Affiliate's approach are:
Choose your direction (your profitable niche based on your own interests)
Build your niche website (done easily, step by step even if you've never done this before)
Drive targeted traffic to your website (you'll learn how to create content across multiple platforms that ranks at the top of Google's search results pages)
Earn revenue and scale (monetizing your traffic, getting consistent and repeat conversions, scaling across multiple platforms, and more.)
How Long Has Wealthy Affiliate Been Around?
Created in 2005 by founders Kyle Loudoun and Carson Lim, Wealthy Affiliate's membership is a global one that has steadily grown.
What Are the Wealthy Affiliate Tiers of Membership?
The first new update for 2023 is that there are now 4 tiers of membership inside Wealthy Affiliate:
the Wealthy Affiliate free starter account, newly streamlined for 2023
Wealthy Affiliate Premium
Wealthy Affiliate Premium Plus+
and the brand new tier of Premium Plus+ with Dedicated Server (for pros and power users)
All Premium tiers contain 100% of the core training.
How Much Does Wealthy Affiliate Cost?
Each premium tier of Wealthy Affiliate has monthly and yearly payment options. They are set to auto-pay and you can cancel anytime from your account settings.
If you choose to go with the monthly membership payment options, your costs will be as follows:
Premium is $49/month,
Premium Plus+ is $99/month,
and Premium Plus+ with Dedicated Server (for pros and power users) is $399/month.
Yearly membership offers considerable savings especially at the Premium Plus+ tier. Check out the graphic below showing yearly membership rates.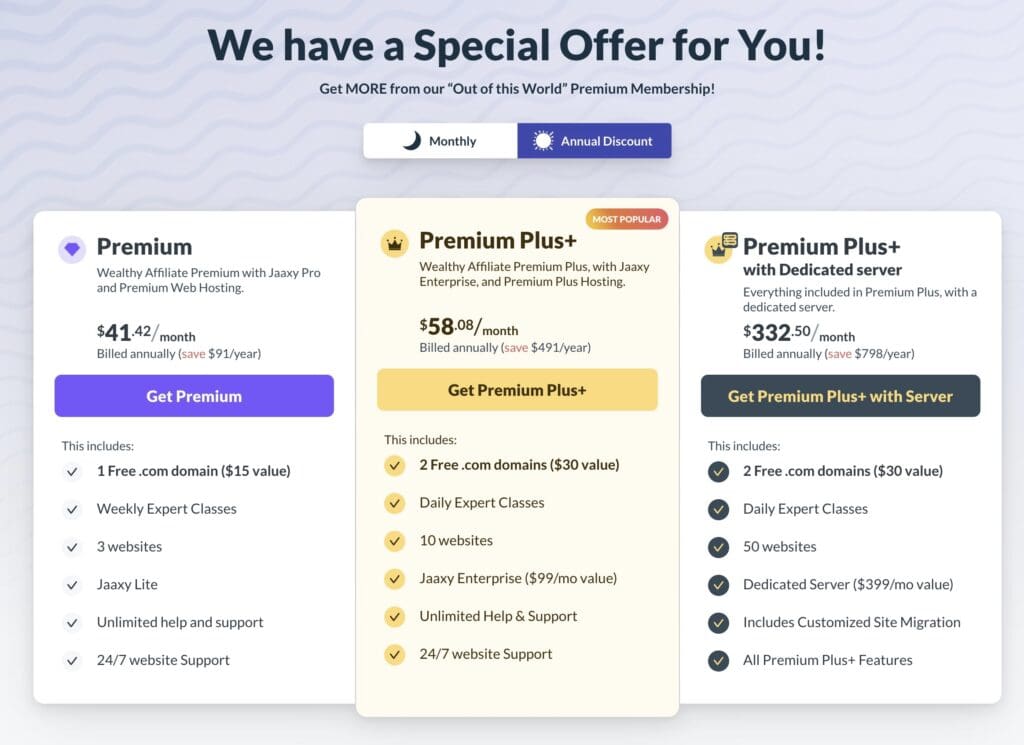 The free starter account (not shown above) is 100% free. You don't even enter payment info. It's literally just sign up and jump in to start your test drive. You can do so directly from this post.
As you'd expect, monthly membership is paid once per month and yearly membership is paid once per year on the anniversary of your enrollment.
Premium Plus+ yearly is the best bang for your buck deal. It cuts your dues almost half off compared to monthly. It's what I'm enrolled at and when you're ready to save on your membership it's the way to go.
You can cancel at any time, and you're free to upgrade and downgrade between the premium tiers as much as you like.
What's Included in the Streamlined Wealthy Affiliate Free Starter Account?
Price: FREE. No payment info necessary.
Wealthy Affiliate's free starter account gives you access to all of Level 1 of the training (5 lessons) along with the ability to ask questions and participate in the 24/7 live chat for 7 days.
You'll see how Wealthy Affiliate's training is set up, how affiliate marketing works, how to choose your profitable niche, and you'll even start building your website in lesson 4.
Previously, there were 10 lessons available in the free starter account, but this has been condensed and streamlined for 2023 to 5 lessons so you can get to the action quicker with a more direct approach.
The entire point of the free starter account is for you to test drive Wealthy Affiliate and find your direction. The main question you should ask yourself during your free test drive: "Is this training a good fit for my style of learning?"
Free Starter Account Lessons:
Lesson 1: Getting Rolling
Lesson 2: Understanding How to Make Money Online
Lesson 3: Choose a Niche
Lesson 4: Building Your OWN Niche Website
Lesson 5: Congratulations and Your Next Steps
Take a sneak peek at Wealthy Affiliate's new 2023 welcome video from inside lesson 1 below! See inside the updated members area and hear from co-founder Kyle as he walks you through the platform. (Video opens in a new window)
What New Tools are Available in the Free Starter account?
Updated for 2023, lesson 3 of Wealthy Affiliate's free starter account introduces you to the brand new Niche Finder tool to help you choose your profitable niche.
Type in any interest you have and you'll have a list of ready-to-go profitable niches to build your business around.
Lesson 3 walks you step by step through this process, detailing exactly what to consider and how to find a profitable niche that's ready to build and scale.
The key to choosing a profitable niche is to base it around your actual interests. This places you smack dab in the middle of your target audience.
In Lesson 4 you'll get your hands dirty actually building your very own website on a free siterubix domain.
For me, being able to do this successfully (and quickly) opened my eyes to the opportunity I had in my lap.
New for 2023, when you upgrade to Premium or Premium Plus+ you can move this "rough draft" website to one of your very own free .com domains that come with the upgrade.
In the levels that follow, Wealthy Affiliate trains you step by step on how to fill your site with engaging content that answers the most popular questions your target audience is making Google searches for.
This is how you grow organic, targeted traffic which is the lifeblood of your business.
You're going to be taught how to do this not only with your websites, but across other platforms as well.
Brand new for 2023 are the free .com domain perks you get when you upgrade to premium.
As part of your upgrade to Premium or Premium Plus+ you'll get either 1 or 2 free .com domains that you'll register and own (1 free domain with Premium, 2 free domains with Premium Plus+).
Any and all hosting costs (costs to keep your website secure, running 24/7, etc.) are 100% included with your membership. Wealthy Affiliate's hosting package alone is comparable to what normally costs $250-$300/month elsewhere.
What's Included with Wealthy Affiliate Premium?
Price: $49/month, $497/yearly
Upgrading to Wealthy Affiliate Premium unlocks all levels of the core training. You'll learn how to create engaging content and build a powerful niche website, ready to monetize in multiple ways and scale your business across platforms.
The Online Entrepreneur Certification course is a thorough, 5 level, 50 lesson training curriculum that takes you step by step from affiliate marketing newbie to expert.
Each lesson has its own video tutorial to follow along. I'm a visual learner so this made a huge difference for me.
The first "a-ha" moment for me was understanding keyword research in Level 2. Driving targeted traffic to your content is a simple formula, and once you know it, traffic and revenue follow.
The training takes you from the "newbie" level all the way to advanced concepts like mastering WordPress, email marketing, social media marketing, sales funnels, scalability, and pay-per-click campaigns.
Most importantly, it delivered for me.
How Many Websites Can You Build as a Wealthy Affiliate Premium Member?
As a Wealthy Affiliate premium member, you can build and host up to 3 websites (up to 10 with Premium Plus+).
Each website is basically its own business, each in its own unique niche, each potentially creating a unique stream of passive revenue for you.
Additionally, as a Wealthy Affiliate Premium member you get 100% access to Wealthy Affiliate's Affiliate Bootcamp.
This is a 7 course, 70 lesson training for those wanting to take part in Wealthy Affiliate's own affiliate program with recurring, high-percentage commissions and more.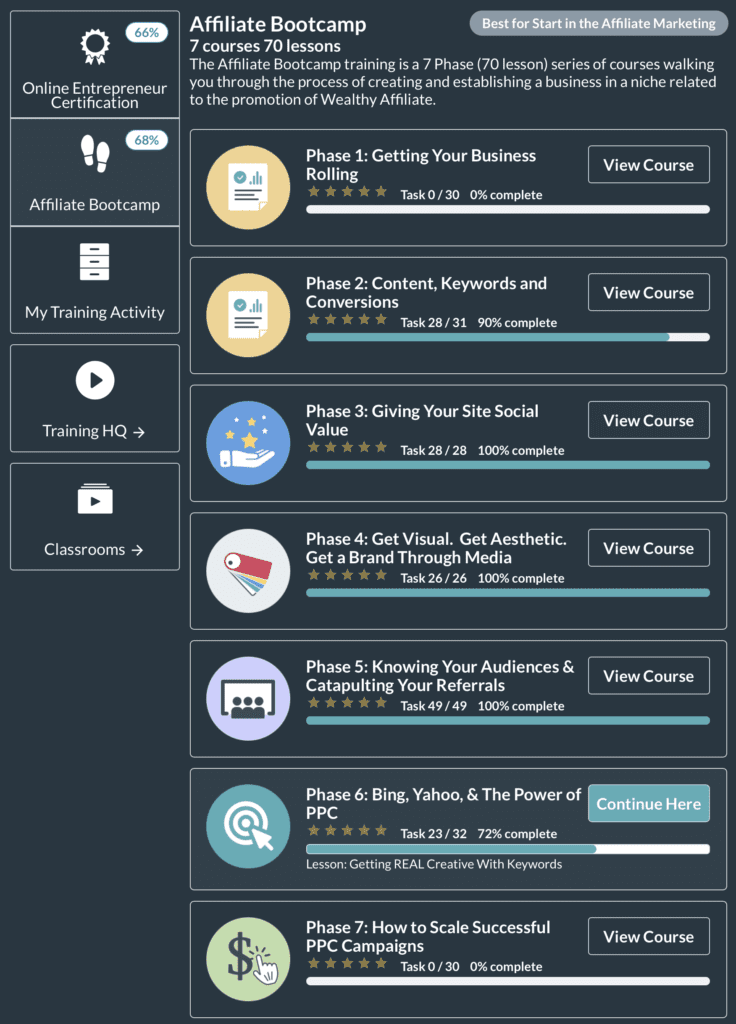 What's Included with Wealthy Affiliate Premium Plus+?
Price: $99/month, $697 yearly
Wealthy Affiliate Premium Plus+ includes everything you get with Premium along with more tools and resources.
Host up to 10 websites with Premium Plus+, as compared to hosting up to 3 with Premium. (Again, any and all hosting costs are 100% included in your membership.)
Jaaxy Enterprise is included with Premium Plus+ membership (more on Jaaxy in a second).
Access to over 200 interactive EXPERT CLASSES streamed LIVE from expert members who share their insight and tips on countless topics so you can fast track to success and avoid the common pitfalls. (Think 1 on 1 coaching on steroids.)
Included with your Premium Plus+ membership comes Wealthy Affiliate's fully integrated keyword tool, Jaaxy Enterprise.
Jaaxy Enterprise is Wealthy Affiliate's integrated keyword research tool. This gives you the the ability analyze data on the most popular Google searches your target audience is making, the ability to dissect the competition, and create content that ranks at the top of the Google searches.
You're taught step by step how to master this tool correctly and drive targeted traffic directly to your content, FREE.
Don't like keyword research tools? No problem.
Wealthy Affiliate also teaches you how to use Google itself as a tool to find the extremely low competition questions and topics your target audience is searching for answers to.
Wealthy Affiliate's Live Premium Plus+ Expert Classes
In my opinion, Wealthy Affiliate's live-streamed expert classes put Wealthy Affiliate over the top. They cover a huge array of affiliate marketing topics and help you to scale your business across multiple platforms, learn expert level strategies that work, and more.
Negative Wealthy Affiliate reviews stating the training is outdated obviously never checked out the expert classes. You can't get much more current than LIVE.
The classes are taught by experts within the community who have found success through affiliate marketing and are now sharing their insight with you.
I'm proud to be one of these experts! Personally, I've taught almost 100 expert classes to date covering YouTube, Instagram, WordPress, copywriting, and more. The global audience and in-class engagement is awesome!
These classes are live-streamed so you can ask questions and engage in real time with the expert and the rest of the global community watching.
As a Premium Plus member you get 200+ live expert classes per year (in reality they're almost nightly) and as a Premium Member you get access to an expert class every Friday night.
On the classes calendar Premium expert classes are shown with a purple diamond and Premium Plus+ expert classes are shown with a gold crown.
So any time you want to deep dive into an aspect of building your business, sit in on a Premium Plus+ expert class.
Miss a live class? The on demand replay will be available shortly after the live stream has ended giving you the ability to pause, rewind, and go over the instruction as much as needed.
How Does the New Tier of Premium Plus+ with Dedicated Server Work?
Price: $399/month, $3990 yearly
I'm going to be brief here because, more than likely, the new Premium Plus+ with Dedicated Server tier doesn't apply to you just yet.
This is for pro and power users who want to house all their successful websites under their own dedicated server.
This high ticket tier gives you all the features of Premium Plus+ along with the ability to have up to 50 websites, all bringing in maximum traffic, all secure and with no hiccups or downtime to ever have to worry about.
Are There Extra Costs Involved with Wealthy Affiliate?
As of 2023, extra costs to get started with Wealthy Affiliate are eliminated.
Before the 2023 update you used to have to purchase your own domain. But now you're given up to 2 free .com domains as a Premium perk.
Your membership includes all the training lessons, your own support coach, live classes, a keyword research tool, your website, hosting, the global community for questions and answers, domain email, and full 24/7 site support.
Later on as you build and scale, you can add any third party services you like from auto-email responders to SEO tools and more, but these aren't needed to get started and be successful.
Are There Wealthy Affiliate Complaints?
The top complaint I see in negative Wealthy Affiliate reviews is that the training is outdated. As a 6 year vet of the Wealthy Affiliate training, I respectfully disagree.
With the 2023 update, not only was the user interface updated but so was much of the training. Calling it outdated is simply not factual.
If you'd like to see me debunk point for point one of the top negative Wealthy Affiliate reviews you can click on the video below and skip to the 1:00:53 point of the video below.
(You're welcome.)
Where are the Areas Wealthy Affiliate Needs Work?
When you have a community as large and as global as Wealthy Afiliate's there's always going to be members that are a little "out there".
To that point, there are some members of the community who seem to be a part of Wealthy Affiliate purely for the social aspect of it.
Sometimes you'll see the WA members' area filed with WA blog posts about things completely unrelated to the platform or members using their space to bicker about utter and completely unrelated nonsense. Feel free to ignore those if you like.
That being said, Wealthy Affiliate's community has some seriously successful experts in it who share their insight regularly.
I make a point to message my referrals a list of who these experts are so they can follow them and learn from their experience.
Final Thoughts
Straightforward and without the red flags and upsells you see in other platforms, Wealthy Affiliate delivers. All tiers of membership deliver consistent value, tools, training, and support at an affordable price. My numbers don't lie. And if I can do it, anyone can.
How do you feel about this updated Wealthy Affiliate review for 2023? Have I been transparent and thorough enough?
What aspects of the Wealthy Affiliate platform do you still have questions about?
Let me know in the questions and comments section below! I always look forward to hearing from you and I answer the questions 100% of the time.
Bottom line, you're probably like me and make your decisions based on what you see for yourself rather than what other people tell you. Create your free starter account through any of my links on this page and see if it's a good fit.
Even with the free starter account you'll have full access to me to ask any questions you like.
Related Posts
Wealthy Affiliate Review 2023 – One Step Forward or Two Steps Back?

Are the very recent large scale updates to Wealthy Affiliate a step in the right direction or a giant fall backward? These numbers don't lie!

Does Elementor Slow Down Your Site?

Does Elementor slow down your site? What are the main guilty culprits in slowing your site down and how can you remedy them?

70 Wealthy Affiliate Review FAQs ULTIMATE Guide!

These are the 70 Wealthy Affiliate review FAQs you need to know about this affiliate marketing training platform before you join!

Digital Freelancer Review

Wealthy Affiliate Review 2022

In this 2022 Wealthy Affiliate review I'll cover everything you need to know about this affiliate marketing training platform. Take an inside look at how and why Wealthy Affiliate's training works.
The post Wealthy Affiliate Review 2023 – One Step Forward or Two Steps Back? appeared first on WORK FROM YOUR LAPTOP.