Welcome to my Paid Social Media Jobs review!
Looking at this program called Paid Social Media Jobs and wondering if you can earn $700 per week for performing simple tasks on social media? Or is PaidSocialMediaJobs.com a scam like the others?
There are so many scams out there, so I'm glad to see that you're taking the time to do some research before purchasing another "make money online" product.
In this review, I will be going over what is Paid Social Media Jobs about, how it really works, whether or not you can benefit from it, the red flags I've found and more.
Paid Social Media Jobs review
---
Name: Paid Social Media Jobs
Website URL: paidsocialmediajobs.com
Owner: "Annie Jones"
Created in: 2011
Price: $27 or $17 ($10 discount) + upsells
Overall Rating: 4/10
---
If you're sick of scams, check out my 1st resource to make money online here!
---
What is Paid Social Media Jobs about?
---
Paid Social Media Jobs is not a new product, it has been around since 2011/2012 so I thought it would be legitimate because when a product/program has been around for many years, it means that there's something right about it.
I've come across multiple sales pages for this product so what I'm going to explain applies for all. 
So… what is Paid Social Media Jobs about?
Thousands of businesses need help managing their social media accounts because they don't have the time to do it for themselves, but it's not enough to hire someone full-time, so they're paying people to do some tasks from home. Paid Social Media Jobs works as an intermediary between these companies and people like you.
It sounds like a great work-from-home opportunity because it doesn't require you to have any prior experience, you just need to know how to use Facebook, Twitter and YouTube.
Some of the tasks they will pay you to do are:
Post Facebook status updates.

Upload videos to YouTube.

Tweet special offers and promotions.

Comment and like YouTube videos.
According to them, you can start working right away after signing up for PSMJ and get paid between $25 and $35 per hour.
When it comes to getting paid, you can get paid directly into your bank account at the end of each week. Soungs good?
It sounds like the perfect solution if you're unemployed and looking for a way to make money immediately, right?
However, there are thing that are important that you know but they don't tell you, so here I am to let you know how this really works.
How Paid Social Media Jobs really works
---
Well, first of all, I don't believe that "job" is an appropriate word for what you will be doing because you are not going to get hired by a company for the long-term, since most of the "jobs" they list are to be completed in a short period of time. So I think that "tasks" would be a better job than "jobs".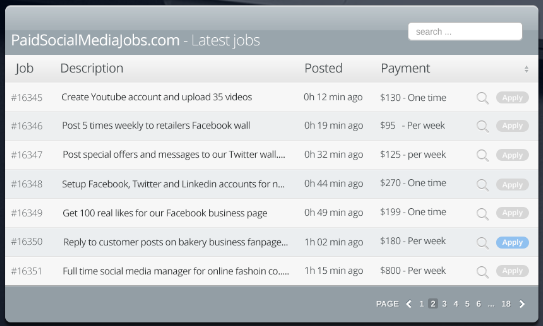 Therefore, if you're looking for something you can rely on for long-term employment, this is not for you because there's no guarantee that you'll get chosen to do enough tasks and earn a decent income.
Even though there are many tasks available and some of them are simple and easy, not everyone will benefit from this because there are too many people applying for these "little jobs".
The ones that are going to make the most money are professionals or people who are experts in social media because they're the ones who are going to get chosen to do the most difficult tasks, which are the tasks that pay more. 
For example, things that not everyone knows how to do:
Get 5,000 likes for a Facebook business page.

Get 500 retweets for a Twitter promotion.

Get 200 comments for a YouTube video.
If you think about it, the more difficult something is, the better the reward. This is why Paid Social Media Jobs is as easy as they claim and definitely not for everyone who is looking to work online.
Inside Paid Social Media Jobs
---
Inside the members area, you will find 3 training modules, advanced training, a jobs database and some bonuses.
When it comes to the training, it's not good enough to learn to do the advanced tasks from the jobs database.
The training is about how to become a social media manager and it's divided in 3 modules and some advanced training:
Module 1. Understanding a social media manager
Here they explain why you need to become a social media manager, what is a social media manager and how you can gain trust in order to get hired.
Module 2. How to get started as a social media manager
In the second module you will find a short explanation on how to get started as a social media manager. They explain what kind of jobs you can apply for and where to find those "jobs".
For example, when you're starting out one of the jobs you can get hired to do is to set up social media accounts for other people.
As a beginner, you can't expect to get paid much because the tasks to do are not that hard. If you keep on learning new skills, then there will be a better chance of getting hired to do the advanced tasks and make more money.
Module 3. Finding clients
Here you will learn how to find the type of clients that are looking for social media managers and the earning potential.
This training basically includes some strategies about promoting yourself, how to build a powerful portfolio, how to get great testimonials, how to find jobs, how to become more productive…
I got kind of surprised that this training was quite extensive. What I didn't like about it is that there's a lot of information but it's not organized, so it's easy to get lost.
It would be great if they provided some instructions or step-by-step lessons on what to do exactly to get started.
The bonuses are 2 ebooks and 2 videos about affiliate marketing and blogging.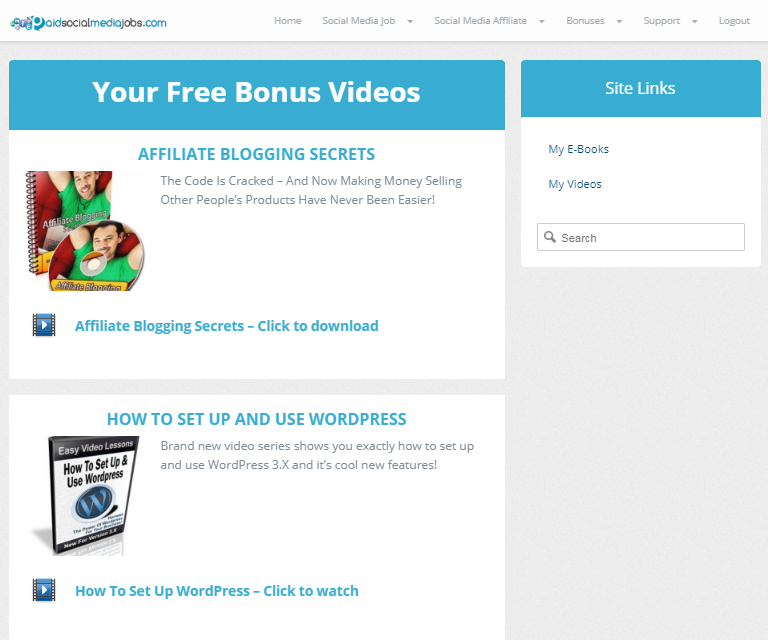 The problem I see with this is that these ebooks and videos seem to be PLR (Private Label Rights), which means that you can find them for free online.
And another thing I noticed is that they're out of date. For example, WordPress 3.X version is from 2010!
Another thing I don't like is the fact that they don't teach anything about Instagram, which leads me to believe they haven't updated any training.
I mean, they talk about Twitter, Facebook, Pinterest, YouTube, LinkedIn… but not Instagram, which is one of the social networks that has become more popular, even more than Twitter.
When it comes to the job database, I got disappointed because everything listed can be found on other freelancing websites like Fiverr, Freelancer, Guru and UpWork.
Therefore, you don't need to purchase Paid Social Media Jobs because you can join those freelancing sites for free.
Click Here To Get My FREE Step-By-Step Earn Money Online Guide!
Is Paid Social Media Jobs a scam?
---
I personally don't consider Paid Social Media Jobs to be a scam because they deliver something for your money and you can also get a refund because it's sold through ClickBank. 
However, they don't live up to the promises they make in the sales page because they're promoting it as an easy way to earn hundreds of dollars a week just for playing around on social networks.
Because of this, I will call Paid Social Media Jobs a low-quality "make money online" product just like the following that I've reviewed:
Kindle Sniper

Tube Profit Sniper

60 Minute Profit Plan

Profit With Alex

The AZ Code
Now I want to point out some of the red flags and discoveries I've found, since there are some scam signs typical of other scam products.
The owners don't show up
---
According to the sales video, the owner of this product is a work-from-home mom named Annie Jones, but she doesn't present herself and doesn't tell us any way to get in touch with her.
We're just shown this picture of herself but the problem is that this image is a stock photo, which means that she's a made up character used to promote this product.
Everything we're told about her is invented. Why do the owners of Paid Social Media Jobs lie about their identity? Why don't they show up?
In my opinion, the fact that they hide means that they are not confident in what they're offering. They know that this is not as good as they want you to believe, so they hide because they don't want to be bothered by their customers.
I personally don't trust products whose owners fake their identity because this is what con artists do.
The earnings are not real
---
The income proof they show you is also fake, in my opinion.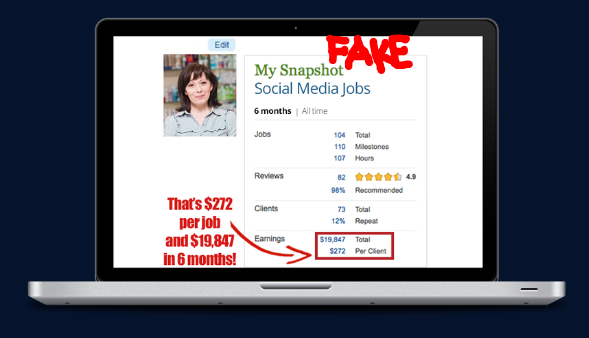 The owner is a fictitious character, so everything about her is also fictional. In this case, they don't mention what this snapshot is from, which is an indication that it might be invented.
But what we know for sure is that her picture is a stock photo, just like the other they show in the sales video.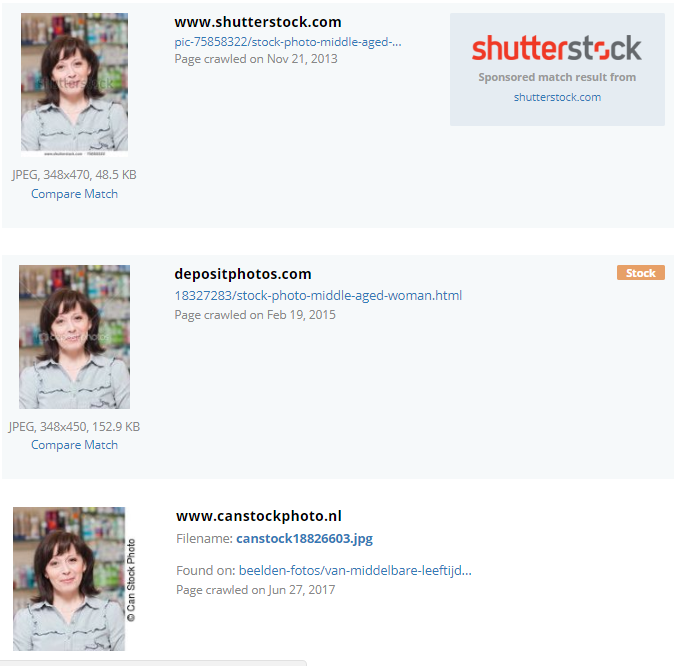 They show you those earnings snapshots just to get you excited and lead you to believe that you can easily earn money so that you end up purchasing the product. Most low-quality/scam products show pictures of fake income proofs.
Fake news
---
In the Paid Social Media Jobs "full join page", there's a section called Social Media Management In The News with a news report video.
In this video, the presenter talks about how social media managers are important in the corporate world and also introduces PaidSocialMediaJobs.com as the most reputable company in this industry.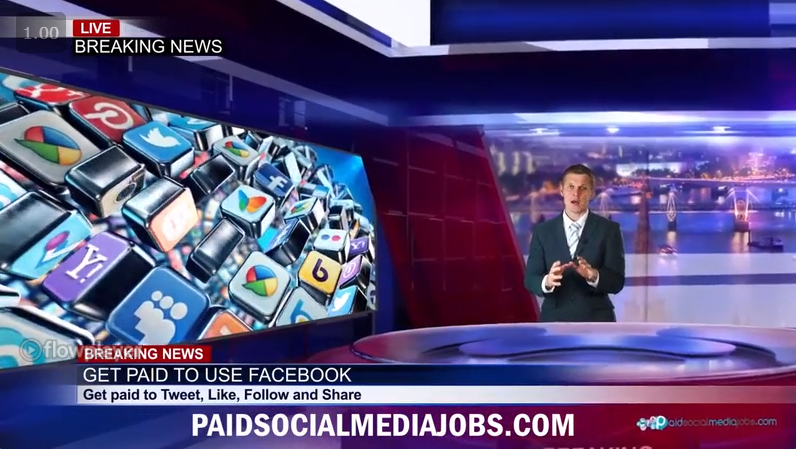 Truth be told, this section should be called "fake news" instead of "breaking news" because it's all made up. The presenter is a paid actor from Fiverr.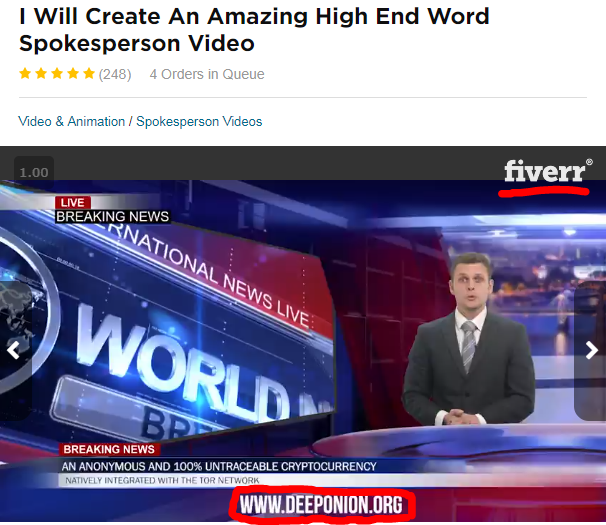 The reason why they've created this fake news report is to lead you to believe that PaidSocialMediaJobs.com has appeared in the news so that you think this is credible and legitimate and end up purchasing it.
But it's not real. I've personally seen this in other scam videos.
It's connected to other low-quality products
---
I believe the owners of Paid Social Media Jobs are the same people that have created other ClickBank products called AppCoiner and Social Sale Rep.
Firstly, I found a page with the domain paidsocialmediajobs.com where they welcome you to App Coiner. Let's see what I mean below: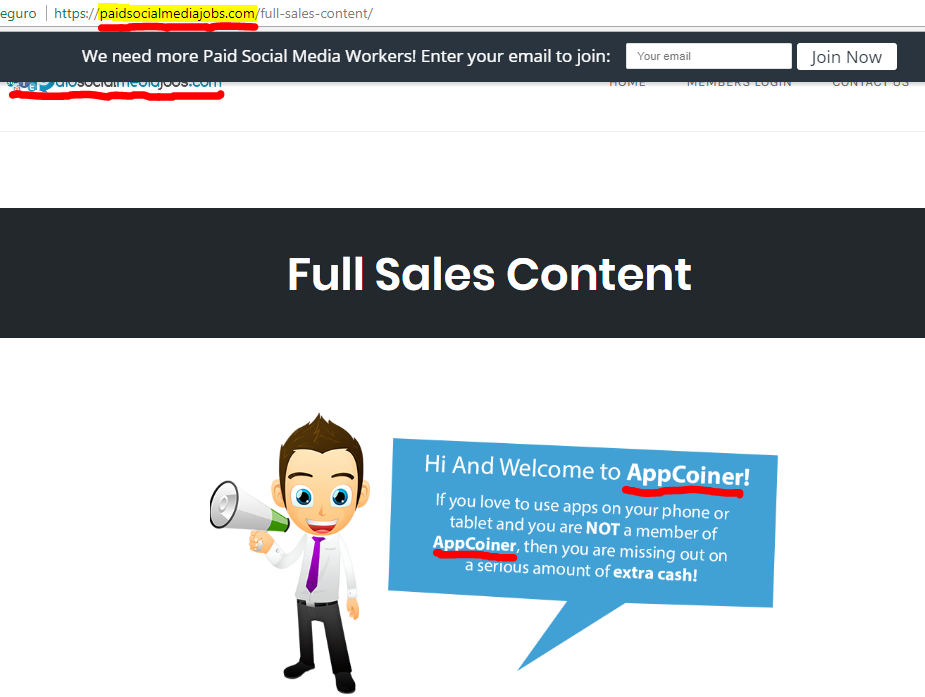 My question is: why aren't they using the appcoiner.com domain for this? My intuition tells me that the owners of Paid Social Media Jobs are the same people behind App Coiner, which is known to be another low-quality product.
Apart from that, I believe that Paid Social Media Jobs and Social Sale Rep are also run by the same people because the members area for these products are very similar.
Below you can see the Social Sale Rep members area: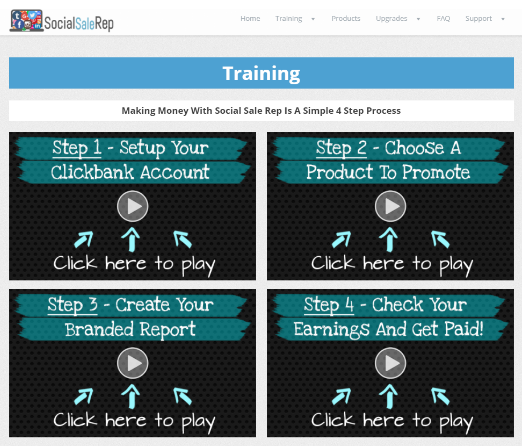 And now let's take a look at the Paid Social Media Jobs members area: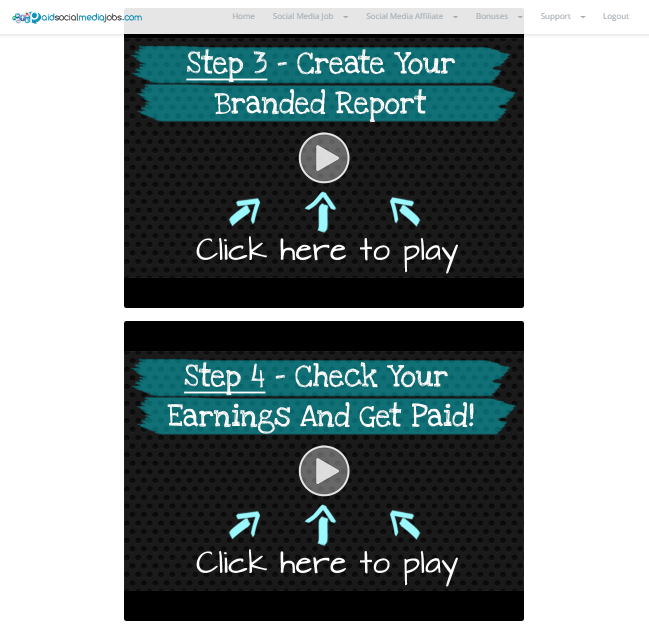 As you can observe above, the Step 3 and Step 4 videos are the same! See how similar they are?
Lack of transparency when it comes to the price
---
Honestly, I'm not surprised that they are not transparent when it comes to the price because low-quality/scam products never mention the total cost.
In this case, Paid Social Media Jobs costs $27 but if you try to exit the page, you can get it for $17. After purchasing it, you'll get bombarded with an additional product (upsell) called Social Media Arbitrage which costs $37.
Apart from that, they claim I got a special 50% discount because I'm from Spain, but this is not special because it's available for everyone regardless of their country.
The truth is that the country will change according to your location. If you're from the US, it will say "50% Discount For Customers From United States of America!".
A legit way to earn passive income online
---
After everything I've seen, I don't recommend Paid Social Media Jobs for several reasons. 
You can join freelancing sites like Fiverr, Freelancer and Upwork for free. So you don't need to pay to become a social media manager. If we think about it, why should you pay to apply for a job?
When it comes to the training they provide, it's out of date and can be found for free online. But the final decision is up to you so if you want to check out Paid Social Media Jobs to see how it is for yourself, you can ask ClickBank for a refund if you end up not liking it.
When it comes to making money online, there are more junk products than programs I can recommend. The way people can stop wasting their time on scams is by keeping in mind that making a living online is not easy and takes effort and time. 
There are various ways to earn a full-time income online, but my favorite way is a business model that allows me to earn passive income called affiliate marketing.
This business model is newbie-friendly and takes advantage of the millions of products that are being sold online every day. So yeah, you will not need to create your own products in order to make money.
You can also choose a topic you love to build your business around, which is great because this is something that makes the process more enjoyable!
Another thing I love about affiliate marketing is the fact that it allows you to work anywhere you have a laptop and an Internet connection, not to mention that it also allows you to make money while you sleep! Sounds great?
If you're interested in learning more, you can check out my FREE affiliate marketing guide by clicking the button below:

In my guide, I explain how this business works, why it works, where you can get the proper step-by-step training and more!
I also show you how to get started for FREE! Yes, you will be able to start your business without spending a penny =)
Not only that, you will also get help and support from a huge community of bloggers and Internet entrepreneurs! Myself included.

Looking forward to seeing you get on the right track to make money online!
CHECK OUT MY FREE AFFILIATE MARKETING GUIDE HERE!
I hope this truthful review has been helpful to you and you will make an educated & wise decision. Don't hesitate to share it with whoever you believe that will benefit from it!
If there's something else you want to know or you have any questions regarding Paid Social Media Jobs, feel free to leave a comment below and I'll get back to you ASAP! 

Best wishes =)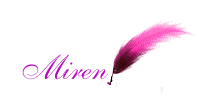 Original source: https://himoneybyescams.com/paid-social-media-jobs-review-is-it-a-scam-wow-see-the-red-flags