Welcome to my Income Quickies review!
Looking at Income Quickies and wondering if this program will help you make "quick income" online? Or is Income Quickies a scam that will leave you with less money at the end of the day?
As you might already know, there are lots of scams out there, so I need to congratulate you for taking the time to do your research because this is the way to avoid scams and find the real way to earn money online!
In this Income Quickies review, I will show you what this program is about, how it works, what you need to know and more!
Income Quickies review
---
Name: Income Quickies
Website URL: incomequickies.com
Owner: Tim
Price: $4.95/month + upsells
Created in: 2015
Overall Ranking: 65/100
---
If you're sick of scams, check out my 1st resource to make money online here!
---
What is Income Quickies about?
---
The moment I came across Income Quickies I thought it was another low-quality or scam product because it looked similar to many of the ClickBank low-quality products that I have reviewed.
But I didn't want to judge it based on its appearance so I started watching the sales video to see what this is about.
According to the spokesman, an "Income Quickie" is a method of earning money online that:
It doesn't require you to have any tech skills.

It only takes 15 minutes to set up.

It doesn't require you to create your own products.

It doesn't involve any traffic generation.
He also claims that you can use these methods to start making money by the end of this week, which sounds a little confusing because he also says that you can set it up in 15 minutes or less. So why can't he be clear about the time it takes to make this work?
What about the income potential? He claims an income quickie can make you between $50 and $100 a day and is scalable to $500-$1000 per day.
In other words, an income quickie is a method you can use to make a full-time income online.
Every month, he will be providing one of these income quickies to the people who pay for the monthly membership of $4.95.
He's supposedly giving away information that's worth $4,870 for only $4.95/month, so doesn't it sound like this is the real deal?
I mean, most "make money online" products/programs that I've come across want you to believe they have a secret system or method that you can use to make money online easily or quickly, but after buying into them I found out that what they offer is nothing new at all. 
For example, these ones below are not complete scams but they don't live up to their promises:
The Ecom Formula

eCom Profit Sniper

Profit With Alex

Tube Profit Sniper

Five Minute Profit Sites
All these products are not complete because they don't contain enough information to make the kind of income they talk about in their sales videos, not to mention that some information can be found online for free.
How does Income Quickies work?
---
Income Quickies doesn't work as easily or quickly as the spokesman tells you, that's for sure.
According to him, this is what you get for paying the monthly subscription:
Access to Income Quickies Vault

Daily Power Calls

Access to Income Labs

Invite to a weekly Q&A

Access to the Income University platform that offers training every week
It sounds good for $4.95/month, doesn't it?
Well, I didn't get surprised after seeing the members area: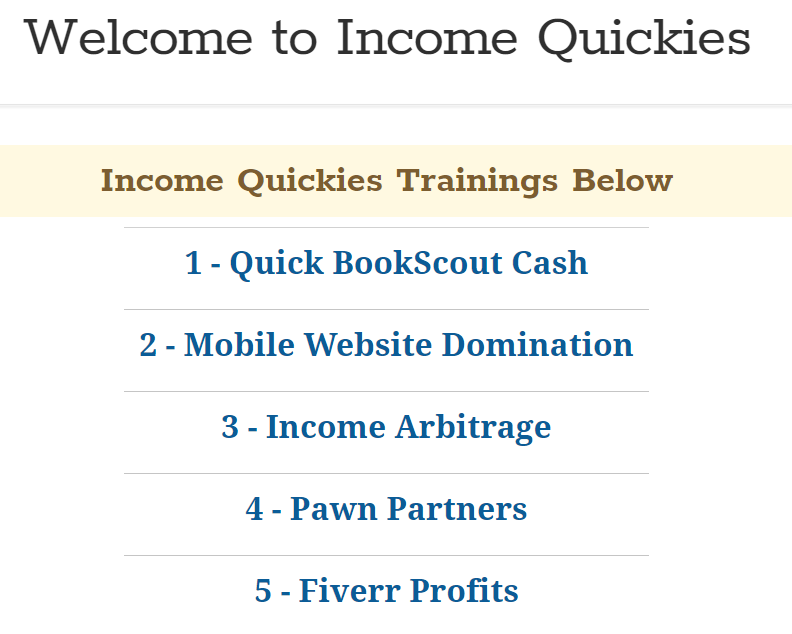 These "Income Quickies" contain between 8 and 24 videos each one so there are about 60 videos in total. 
The video training is quite simple but I actually liked that the videos are not YouTube videos that can be found for free and they're actually made by the same guy from the sales video.
They are legitimate ways to make money online but they definitely require you to put in the effort to make them work. They take waaay more than 30 minutes to set up and making $10,000 with these methods is not something that can happen the first or second month after getting started, not to mention that some methods are just ways to make extra money.
Truth be told, making a full-time income online doesn't come in a fast or quick way. This is the conclusion I've come to after trying various ways to earn money online.
These income quickies are all different and the problem I see is that they are not in-depth enough and not all of them are 100% online.
I mean, some of them like the "Quick BookScout Cash" and "Pawn Partners" require you to do some tasks offline, so it might be easier or harder depending on the country you live.
The cost
---
Income Quickies charges a small monthly fee of $4.95 to make it easy for you to purchase it.
The reason why they are charging a monthly fee is to make money from you every month. They know that you will be curious to learn the new methods, so they are not going to reveal it to you unless you wait another month.
I remember I was subscribed to a book club a while ago and had to pay a monthly fee of $10 just to get access to a new book. 
But I ended up cancelling my subscription because the book club didn't even offer the book in a digital format. 
I mean, paying $10 a month just to get access to the cover and title of a book is not worth it, not to mention that they didn't offer any refunds.
At least ClickBank products like Income Quickies and the others I have mentioned earlier offer refunds. That's why I don't consider these products to be total scams.
Another thing you need to know is that after paying $4.95 for the first month of Income Quickies, you will be bombarded with two upsells. Yes, $4.95/month is not the only cost.
Not only that, some of these methods require you to download softwares or pay for another services. So yeah, I can assure you that $4.95/month is just the beginning.
I would have appreciated that the spokesman told us about the upsells or the hidden costs because knowing the total cost is important to take into consideration to decide whether or not to purchase something.
Also, a product that is really good should not require you to buy any additional products a.k.a. upsells. Many of the ClickBank products I have reviewed are low-quality products because they do not work without buying the upsells.
The spokesman doesn't present himself
---
The fact that the spokesman doesn't present himself is a red flag to me. 
Yes, he talks about his life but he doesn't mention his name which is something important to know in my opinion. How can I call him then? Mr Quick Income maker? Lol.
Whenever I come across a website or program, I like to know about the people who have created it because it helps me determine whether or not the product is worth it.
I actually think that the spokesman's name is Tim because there's a moment in the sales video that they show some Facebook comments and I read something like "what Tim showed me".
I also did some images searches to see if the comments were fake or not and they turn out to be real so the people from the comments are real members of Income Quickies.
I'm actually glad that they don't lie about the testimonials because most products I've come across have fake testimonials, so Income Quickies is more legitimate when it comes to the owner and the testimonies.
With that being said, the story the spokesman tells us about sounds a little bit fake because it sounded similar to other "from broke to rich" stories that I've heard in other low-quality products. They always talk about being broke and finding a secret or something that changed their lives in a short period of time.
Another thing you need to know 
---
Another thing to keep in mind is that they may share your personal information to third parties. You can read this in their privacy policy.

What does this mean? People you don't know might email you about other "make money online" programs or products.
You need to be careful with some emails because some of them might contain links to other scams or malware files. If someone claims you can earn money easily or fast, I suggest that you unsubscribe from their list because what they really want is to make a quick buck.
Click Here To Get My FREE Step-By-Step Earn Money Online Guide!
Is Income Quickies a scam?
---
Income Quickies is not a scam, I consider it to be a decent program because you will get something for your money.
The methods taught are legitimate but they will not make you quick money, just like I told you before. 
In fact, the earnings disclaimer states that there is no guarantee that you will make the levels of income they talk about in the sales video.

In order to make a substantial income online, it's better to focus on a single method and master it instead of trying many different methods at once because it's easy to get lost if you try all the methods at the same time.
I remember that when I was getting started I wanted to try many different ways to make money simultaneously and it didn't work. I didn't make much money until I focused on building my online business.
That's why I recommend that you focus on a single method and give yourself some time to make it work.
With that being said, I don't mind recommending Income Quickies (get it here) because this product does not use fake testimonials or other scam tactics and the training is not low-quality.
My favorite way to make money online
---
I know the idea of making money online quickly sounds kind of attractive, especially if you are struggling financially or are tired of your job.
However, this idea is sold by scammers who want to make a quick buck at other people's expenses, so I suggest that you stop looking for the easiest and fastest way to earn money online if you want to avoid scams.
The fact that the Internet allows us to get instant access to a lot of information makes some people believe that making money can also happen instantly or at least faster than it it were offline.
But the truth is that making money online is like making money offline when it comes to the time and work you need to put in. 
Yes, there are definitely some benefits to making money online like being able to have a flexible schedule, being able to work from home or anywhere you have an Internet connection, being able to travel more…
As I told you, I tried various methods to make money online and have come to the conclusion that it's best to build an online business.
I'm grateful that I discovered a business model that takes advantage of the millions of products and services that are being sold online and it's only getting better because every day more products are being launched.
This business model is newbie friendly and has given me a way to earn a consistent income online. In fact, many people are using this business model to make a living online.
I believe that anyone who is committed to learning and taking action, can build a successful online business doing what I and other people are doing.
There's a lot to say about this business so I created a FREE step-by-step earn money online guide where I explain it all:
In my guide, I show you how this business works, why it works, what tools and training you need to build this business, proof that it works, how to get started…
And I also show you how to get started for free! That's right, you don't need to spend a dime to check it all out for yourself =)
To add to it all, my guide also reveals how you can get lots of support and help from a big community of online business owners and entrepreneurs!
I'm so excited for you to start your online money-making the proper way!
CHECK OUT MY FREE EARN MONEY ONLINE GUIDE HERE!
I hope this review has been helpful to you and you will make the best possible decision concerning Income Quickies. Don't hesitate to share it with whoever you believe that will benefit from it!
If there's something else you want to know or you have any questions, feel free to leave a comment below and I'll get back to you ASAP! 

Best wishes =)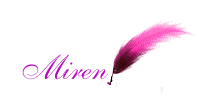 Original source: https://himoneybyescams.com/is-income-quickies-a-scam-or-legit-ways-to-make-10k-month-review