Welcome to my Take Surveys For Cash review!
You have come across the Take Surveys For Cash sales page (takesurveysforcash.com) and are wonderinf if it's a legit platform to make money for taking paid surveys? Or maybe you have questions like "Is Take Surveys For Cash a scam that will take my money?".
Well, first of all I need to congratulate you for taking the time to do your research because this is the way to avoid scams and find the real way to make money online!
To be honest with you, Take Surveys For Cash is not as good as it appears to be so I decided to write this review to let you know everything you need to know about this program. 
Take Surveys For Cash review
---
Name: Take Surveys For Cash
Website URL: takesurveysforcash.com
Owner: "Jason White"
Price: $39 + upsells & downsells
Overall Ranking: 1/5
---
If you're sick of scams, check out my 1st resource to make money online here!
---
What is Take Surveys For Cash said to be?
---
Take Surveys For Cash is a ClickBank product that has been around for some years already, but that doesn't mean it's a good product.
The two pages for this product are full of hype and very similar to other low-quality/scam products that I have reviewed in the past.
Take Surveys For Cash tries to convince you that you can earn thousands of dollars a month for taking paid surveys and finally become financially free.
Jason White, the alleged creator of this program, claims to have found a "weird trick" that has allowed him to earn $3,500/month by completing surveys. 
He calls himself the kind of surveys because he's made $274,000 since 2009 just for taking surveys and he's also helped lots of people make a lot of money with paid surveys. Sounds amazing, right?
I remember when I was getting started some years ago I almost bought into a product like this one that also promised it was possible to earn thousands of dollars per month just for taking surveys. 
Luckily, I didn't fall for it because I did my research and found out that many paid surveys products are kind of scams and I'm sure Take Surveys For Cash is no different, since paid surveys is not a way to make a substantial income online.
Yes, it's possible to make money for taking surveys but it's not like most of these paid surveys products want you to believe, which I will go over in a bit.
Does Take Surveys For Cash work?
---
Take Surveys For Cash doesn't work like they want you to believe because there's no way to earn $3,500/month from it.
Why? Let me explain.
Companies don't pay the much per survey, they pay from pennies to $2 per survey. That's why you would need to complete lots of surveys to make a full-time income.
For example, in order to make $1000/month, you would have to complete 500 surveys within a month, which would be more than 15 surveys per day. 
15 surveys per day is way too much when we take into account that surveys are not that easy to complete. Yes, most surveys take between 15 to 30 minutes to complete so you would have to spend hours to complete over 15 surveys per day.
Not only that, you need to take into consideration that companies do not send enough surveys when starting out. Not to mention that you first need to qualify to complete a survey.
I remember that when I was getting started I found very attractive the idea of taking surveys to make money so I registered to many survey platforms but I didn't receive many surveys to complete. And I did not qualify for most surveys that I tried to complete.
It was quite discouraging to spend 15 minutes trying to complete a survey and then be told that I didn't qualify. That's why I stopped trying to earn money with paid surveys and looked for other alternatives.
If you want to learn more about making money with paid surveys, you can check out this post I wrote.
The truth about Take Surveys For Cash
---
Take Surveys For Cash is not a platform where you can take surveys directly, it basically works as an intermediary between you and third party survey sites that you will have to join.
So the initial fee you are paying for Take Surveys For Cash is just to get access to the list of survey sites that you need to sign up to in order to receive surveys to complete.
In other words, you would be paying to discover websites that can be found online for free.
But this is not all. The reason why Take Surveys For Cash lists the paid surveys sites is because they are affiliated with them.
What does this mean? If you join the paid survey sites through the affiliate links they provide, the owners of Take Surveys For Cash will get paid. That's another way they try to make money.
Click Here To Get My FREE Step-By-Step Earn Money Online Guide!
Is Take Surveys For Cash a scam?
---
The answer to this question actually depends on your definition of scam.
I know many people would call Take Surveys For Cash a scam because it's very misleading and doesn't live up to its promises.
But others will not call it a scam because they deliver something for your money and you can also get your money back since it's a ClickBank product.
In my opinion, it's a very low-quality product like these ones that I've reviewed:
Click 4 Surveys

The AZ Code

30 Minute Money Methods

Five Minute Profit Sites

eCom Profit Sniper
With that being said, I want to point out 7 red flags that I have found because they indicate that Take Surveys For Cash is not as good as it seems.
Jason White is probably a fictitious character
---
The owner of this program is supposed to be Jason White, but how can we confirm this is true if he doesn't show his face or any picture of himself?
If he's the kind of surveys and has helped many people, don't you think he would be popular or well-known? But there's no information about him and he doesn't even tell us how to get in touch with him.
I personally believe that Jason White is a fictitious character because low-quality/scam programs usually use fictional characters instead of revealing who are the real owners.
In fact, I found out that the picture they use when they talk about Jason, is a stock photo that can be found on other sites.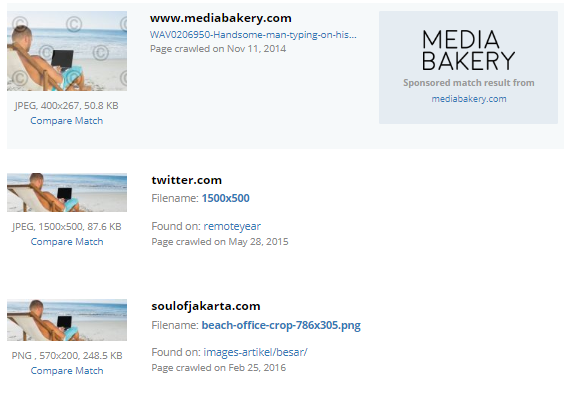 The fact that they use stock photos is what convinces me even more that Jason White is not the real owner of Take Surveys For Cash.
When the owner is fake, I don't expect a product to be good because most products like this end up being duds.
High-income claims
---
Another reason why I don't trust this product is because they claim you can make $3,500 a month just for taking surveys and make it sound as if it were easy. 
As I said before, paid surveys is just a way to make some extra money. It's definitely not a way to make a full-time income online.
Paid surveys can help you make some extra cash that you can save, but if you are looking to make a job-replacing income, forget about paid surveys.
Whenever you come across a program or product that claims you can quick or easy money, stay away from it because programs that promise easy riches end up being scams.
Fake testimonies
---
Take Surveys For Cash has supposedly changed many people's lives but I haven't found any real positive review online. 
There are many Take Surveys For Cash reviews but most of them are negative. The ones that are positive are from affiliates who just want to make a quick buck.
So I decided to do some image searches of the testimonials from their sales pages and I found out that the pictures can be found in various websites, which means that they are not real testimonies.
Another thing that indicates these testimonials are fake is the fact that there's no proof that their checks are from paid surveys. There are many pictures of people with checks online, so scammers take advantage of it by using some of these pictures to promote their crappy products.
I remember some months ago I reviewed another paid surveys scam product called MySurveyJobs, where they showed pictures of people with checks that had nothing to do with paid surveys.
Lack of transparency when it comes to the price
---
I personally don't like programs or products that do not mention all the costs because this is something that you want to know in order to make a wise decision concerning that product.
In this case, $39 is not the only fee they will try to make you pay for this program.
If you decide to leave the sales page, they will give you a discount of $27. And then, if you try to exit again, they will try to get you to purchase it for $12.
The fact that they give these discounts is an indication of the low-quality of this program. Why would they give you something that is said to make you $3,500/month for only $12? It makes no sense.
But this is not all. There are three more upsells that they will bombard you with. Below you can see their sales funnel:
They will tell you that you can make more money if you purchase these upsells, but the truth is that they are not worth it because there's not any secret or trick to make a lot of money fast with paid surveys.
Another thing, you need to be careful with these "1 click upsells" because they don't require you to provide your payment information to charge you, which means that you'll be charged just by accepting them. 
Lol what I found out yesterday is actually funny. I was researching about another product named Writing To Wealth, which has come out this month and found out that they have a similar sales funnel.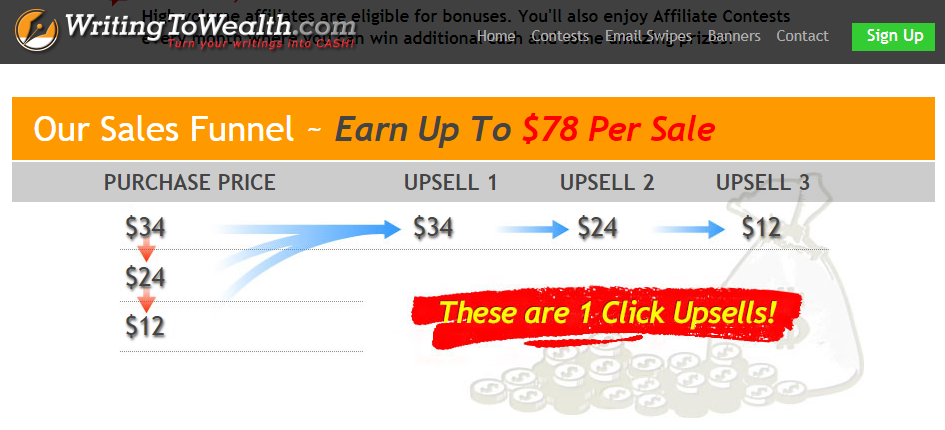 Both Take Surveys For Cash and Writing To Wealth use the same colors, the same layout and even claim affiliates can earn $78 per sale.
I wouldn't be surprised if the people behind Take Surveys For Cash are the ones who have created Writing To Wealth.
False scarcity
---
Another way they try to take your money as soon as possible is by telling you that this offer is only available today as long as you stay on the page.
The truth is that this offer is always available and if you leave the page and come back later nothing will have changed.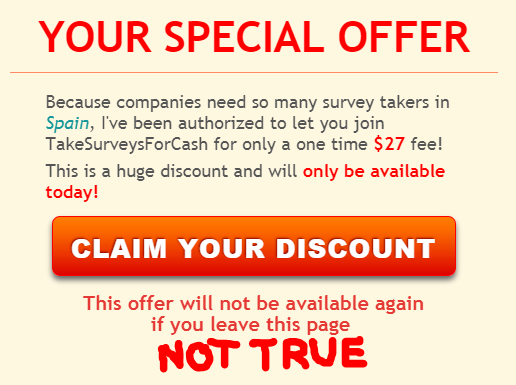 Con artists usually make these fake claims to pressure you and lead you to purchase their products as soon as possible.
The truth is that they don't want you to make a rational decision. They want you to make a final decision based on the fear of missing out.
Fake checks
---
They show the $500 check just to lead you to believe that you can make that much for taking a survey, but the truth is that it's completely fake.
The $3 check is real but the $500 check is fake. They've just photoshopped the number and it doesn't even look natural. 
Also, you can observe there's a disclaimer at the bottom of the check that indicates this is not a real check, it's just an example.
More lies
---
The limited time bonus is not even limited and it's quite misleading because:
You are not going to get paid $50 just for completing your first survey. You first need to reach the minimum payout threshold in order to get paid, which you are not going to reach by only taking a survey because the minimum payout is way higher than the amount of money you get paid for taking a survey.

The $50 bonus is not even cash. It comes as a gift card.
Apart from that, they claim this is only available for residents of Spain which is not true.
If you are from another country like the US, I'm sure it will say something like "only for residents of the United States". 
The truth is that the sales page detects where you're in so they show the country and flag to make it seem like it's exclusive to your country.
A better way to use your time
---
After everything I have found and explained, I conclude that I don't recommend Take Surveys For Cash.
If you are looking to make money by taking surveys, you can find paid survey sites online for free so you don't need to purchase Take Surveys For Cash.
But that's it. Paid surveys can help you make some extra money, not a substantial income.
I personally decided not to waste my time on paid surveys because the income potential was low and I was looking for a way to make a living online, not just pennies.
Now I'm grateful that I found a business model that has given me a way to earn a consistent income month after month.
In fact, there are many people who are using this business model to generate a full-time income online. 
It definitely takes commitment, time and work to achieve success in this business, but I believe that anyone who learns from a legitimate source and puts in the effort can build a successful online business doing what I do.
There are many things I love about this business so this post would be too long if I had to explain it all here lol. That's why I created a FREE step-by-step earn money online guide where I show how it all works:
In my guide, you will found out how this business works, why it works, the income potential, proof that it works, what you need to build this business, how to get some step-by-step free training to get started…
And I also show you where you can get started for free! Yes, not kidding, you can check it all out without spending a penny =)
In addition, you can rest assured knowing that you are not alone in this new adventure, I will show you how you can get lots of help and support from me and other like-minded people!
It's your time to leave the scams behind and start building your future today!
CHECK OUT MY FREE EARN MONEY ONLINE GUIDE HERE!
I hope this review has been helpful to you and you will make the best possible decision regarding Take Surveys For Cash. Don't hesitate to share it with whoever you believe that will benefit from it!
If there's something else you want to know or you have any questions, feel free to leave a comment below and I'll get back to you ASAP! 

Whatever you do next, I wish you nothing but the best =)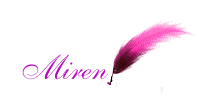 Original source: https://himoneybyescams.com/take-surveys-for-cash-review-7-scam-signs-exposed-here