Welcome to my Easy Insta Profits review!
You have come across the Easy Insta Profits sales page (easyinstaprofits.com) and have some questions concerning it, am I right?
Maybe you have questions like "Is Easy Insta Profits a scam that will take my money or is it the real deal?".
Well, I first need to congratulate you for taking the time to do your research before purchasing another "make money online" product. This is the way to avoid scams and find the real way to earn money online!
I have bought this product, so this review I've put together is based on my personal experience, which has been worse than I expected.
In this Easy Insta Profits review, I will show you what this product is about, how it really works, what other people are hiding from you, the scam signs that I have found and more.
Easy Insta Profits review
---
Name: Easy Insta Profits
Website URL: easyinstaprofits.com
Owner: "Mike Richards"
Launched in: July 2018
Price: $37 + upsells
Overall Rating: 1/10
---
If you're sick of scams, check out my 1st resource to make money online here!
---
What is Easy Insta Profits about?
---
The name Easy Insta Profits sounds like generating profits with this system is easy, doesn't it?
Some days ago, I was sent an email that contained a link to this product so I thought I would check it out to see if it was a good one.
The moment I landed on the Easy Insta Profits sales page, I thought it was another low-quality ClickBank product because the sales page looked very similar to other scam pages that I have come across.
But I didn't want to think that it was another BS product so I started watching the sales video and ended up purchasing it.
According to the spokesman, Easy Insta Profits is a system that you can use to earn easy money from Instagram.
He tries to convince you that this system has been designed for you because it doesn't require you to have any special skills or marketing experience.
This is a 100% done-for-you system that does everything for you so you don't have to do much work to make money with this system.
He even claims you can make $1,300 a day by only working 20 minutes a day, not to mention that you can start making money immediately after purchasing this system.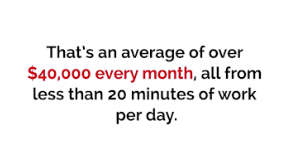 All you need is a smartphone, the Instagram app, 2 thumbs to tap your screen around 20 minutes a day and a PayPal or bank account to collect your profits.
Doesn't it sound amazing? It sounds too good to be true, right? He basically tells you what you want to hear just to get you to purchase this product.
The truth is that making money from Instagram is not as easy as he wants you to believe.
I've reviewed hundreds of "make money online" products/systems and know how to determine if something is worth it or not.
In this case, Easy Insta Profits is no different than these ClickBank products that I have reviewed:
Smart Money Methods

60 Minute Profit Plan

Five Minute Profit Sites

The AZ Code

Take Surveys For Cash

Fast Earners Club
How does Easy Insta Profits really work?
---
Easy Insta Profits doesn't really work to help you make money, it's the complete opposite. Easy Insta Profits works to take your money. 
First of all, there's no way to earn $40,000 a month with only 20 minutes of work a day. 
Yes, it's possible to earn $40,000 a month and even more, but it will not happen without doing much work because making a full-time income online is not quick or easy.
If it were that easy, don't you think that everyone would have earned millions online already? A lot of people wouldn't be working 40 hours a week for minimum wage.
Don't let these scam artists fool you. Making money online is better than making money offline in some aspects, but it is not easier or faster! 
To be honest, I didn't want to buy Easy Insta Profits after watching the sales video because what I heard was enough for me to determine this product was not worth it.
I mean, most ClickBank "make money online" products that I have purchased didn't deliver much so I knew what I could expect from this one.
But I like to see the good in everything and everyone so I was like "what if I'm wrong and Easy Insta Profits is better than the other products?" and ended up purchasing it.
I couldn't access the members area!
---
After buying it, I thought I would get bombarded with some upsells (same thing as other ClickBank products) and then get access to the members area.
But you know what? I could not access the members area!!
Yes, I was bombarded with an upsell named Easy Insta Profits Pro which costs $147 and allegedly can help you make more money.
The spokesman actually claims you can earn $900,000 a year thanks to this additional product.
To be honest, I couldn't help but laugh while hearing all these fake claims. I decided to pass on this one and access the members area to see what was included.
However, when I clicked the button to access the members area, I got taken to the checkout page! 
I was like "have I clicked on the right button?", so I clicked again where it says "No thanks – I don't want the upgrade, please take me to the members area" but I still got taken to the ClickBank checkout page to pay for this upgrade.
I even tried to access the members area from my smartphone, but the same thing happened.
In this 16 seconds video below, you can see what I mean:
I also checked out the purchase confirmation email to see if I could access the members area, but when I clicked "download this digital product" I got taken to the upgrade sales page.
So there was no way to access the members area. Did I pay $37 for nothing? Yes! I paid $37 to get the "chance" to pay them more money.
In conclusion, Easy Insta Profits turns out to be worse than I expected, worse than the other low-quality ClickBank products that I had purchased.
Who is really making money with Easy Insta Profits?
---
Easy Insta Profits was created to make money to its owner/s, as I said before. But there's another group of people who is also earning money from Easy Insta Profits.
Take a look at the screenshot below: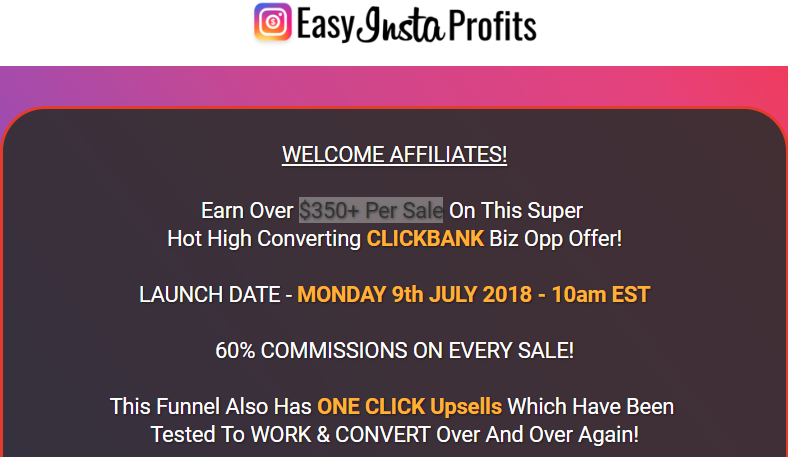 People who are promoting Easy Insta Profits as affiliates are also making money when other people buy this product.
In fact, the only Easy Insta Profits reviews that I have found are from affiliates who want to make a quick buck. They haven't even purchased this product themselves.
As you can read above, affiliates can supposedly earn over $350 per sale… I know I could promote this product to make some money but I have decided not to do it because it's not a high-quality product.
The truth is that Easy Insta Profits was not created with the customer in mind. It's been designed to generate profits to the owner/s and the affiliates, not beginners or unexperienced people who are looking for a way to make money online.
Click here to check out my FREE affiliate marketing guide!
Is Easy Insta Profits a scam?
---
Would you consider a product that doesn't live up to its promises a scam? 
And what about a product that doesn't deliver anything? I personally would call it a scam.
So is Easy Insta Profits a scam? Hell yeah! 
If I could access the members area, I would have called it a low-quality product like the others that I have reviewed.
But the fact that they didn't send me the link to the members area is a big red flag because it represents that I have paid for nothing.
Well, the good thing is that they offer a 60-day money back guarantee so I hope I can get my money back. But what I can't get back is my time so I will not waste any more time on this Easy Insta Profits scam product.
With that being said, I want to point out some of the lies they tell in the sales video and other red flags that I have found because they indicate this product is not as good as it seems.
Mike Richards is a made up character
---
The spokesman claims to be Mike Richards but he sounds like a voice actor to me.
How can we trust someone who doesn't show his face? He claims he makes a lot of money from Instagram but he doesn't mention his IG username and doesn't even tell us a way to contact him.
If he's that successful, why is he hiding? The story he tells us sounds fake and is very similar to other sob stories I've heard before.
So how do I know that Mike Richards is a fictional character? At the bottom of the Easy Insta Profits sales page, you can read that the spokesperson is using a pen name, which means that he's not using his real name.

Not only that, you can also read that the testimonials do not reflect the typical purchaser's experience, which means that the testimonies are also fake.
The testimonies are not real
---
Like I said, the testimonials are fake. 
Those people who claim to be earning thousands of dollars a month thanks to Easy Insta Profits have not even purchased this system.
Wondering who are these people? Fiverr actors who are selling video testimonials just to make some dollars. The con artists pay them to recite some scripts.
This woman below has also appeared in another scam product called Kindle Sniper: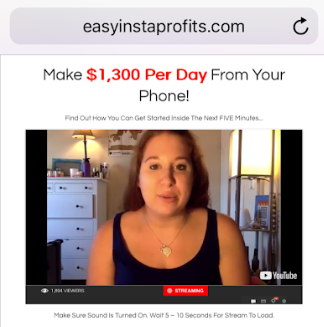 This man below is also a Fiverr actor: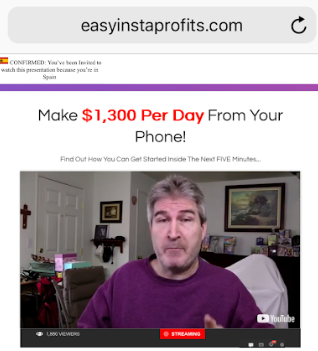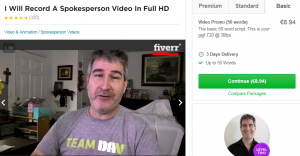 The fact that they are using fake testimonials to promote Easy Insta Profits is a big red flag because it means that people are not really getting great results with this training.
Well, maybe the few people who have purchased it haven't made any money from it because there's no way to access the members area, not to mention that it takes a looot of time and work to make the kind of money they say.
It's all "done-for-you"
---
Another red flag is the fact that it's all "done-for-you" or that you don't have to do anything.
I know that having things done for you sounds kind of attractive but the truth is that it's not good for the long-term. 
Why?
Firstly, done-for-you stuff doesn't encourage you to be creative and think for yourself.
Secondly, a done-for-you system keeps you dependent which means that you are left with nothing if the system shuts down.
These are the reasons why I believe that "done-for-you" systems are not the way to go if you are looking to make money online for the long-term.
Instagram profits have nothing to do with your profits
---
Another thing that I want to make clear is that Instagram profits are independent of your profits.
The spokesman claims Instagram has generated over $7,000,000,000 in 2017 just to make you believe that the more money Instagram makes, the more money you you earn.
Well, the truth is that you are not going to make money directly from Instagram. In other words, Instagram is not the one that will be paying you. 
Based on the Easy Insta Profits sales video, this is geared towards using Instagram to sell other companies products/services.
In other terms, Instagram is just the platform where you will be promoting the products you want to earn money from, and you will earn a commission when someone purchases a product through your affiliate link.
This is called affiliate marketing, which is a business model that I'm very familiar with since I personally use it to make money online.
It's a legitimate and lucrative business model, but the problem with Easy Insta Profits is that they do not provide good training (I didn't get anything after paying $37) to build a successful affiliate marketing business.
What about learning from a comprehensive source?
---
After everything that I have seen and explained, I highly don't recommend Easy Insta Profits, but you are free to do whatever you want.
I have personally wasted my money and time on this product because I got nothing for my money, but maybe you have a different experience than me.
What I can guarantee is that you will not earn money instantly or without putting in the work. The "make money easily and fast" concept was created by scam artists to lure innocent people in.
I know what it takes to earn money online because I was able to learn from a step-by-step and comprehensive training that showed me how the online money-making process really works.
Thanks to this training I have been able to earn a consistent income month after month by using the affiliate marketing business model.
In fact, there are many people who are making a living online using this training and this business model. What we have in common is that we didn't make money overnight and had to put in the effort and time to make it work.
There's a lot to say about affiliate marketing and the training I use so I decided to create a FREE step-by-step affiliate marketing guide where I explain it all:

In my guide, I show you the process to build an affiliate marketing business properly, what you need to build this business, how to get started…
And I also show you how to get started for free! That's right, you will not have to spend a dime to check it all out for yourself =)
Not only that, you will not have to do this alone because you will get help and support from me and a big community of like-minded people who want to see you succeed!
This is your time to say bye to the scams and get your online business started!
CHECK OUT MY FREE AFFILIATE MARKETING GUIDE HERE!
I hope this Easy Insta Profits review has been helpful to you and you will make the best possible decision. Feel free to share it with whoever you believe that will benefit from it!
If there's something else you want to know or you have any questions regarding Easy Insta Profits, don't hesitate to leave a comment below and I'll get back to you ASAP! 

Best to you =)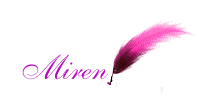 Original source: https://himoneybyescams.com/is-easy-insta-profits-a-scam