Are you interested in learning about affiliate marketing? I'm going to share 13 reasons why affiliate marketing is still worth it in 2022.
I'll explain how affiliate marketing works, why it's so lucrative, and how you can get your piece of the pie even if you're a complete novice with no experience at all.
Is Affiliate Marketing Worth It in 2022?
With little to no money needed to invest, affiliate marketing can be very lucrative with high commissions and no limit to the number of revenue sources you can create. In 2022 affiliate marketing is absolutely booming! Why? Let's take a look at 13 reasons…
Let's take a look at 13 reasons why affiliate marketing is worth your time (and money) if you're looking to make money online in 2022.
1. Affiliate Marketing is BOOMING as an Industry
Have you ever bought anything online? Chances are you bought something online multiple times this week.
With the boom of online merchants like Amazon, it's now the norm to order any everyday items we need via a few swipes on our smartphones and then just 2 days later have them delivered directly to our door.
Even just ten years ago, the idea of being able to buy EVERYTHING online was a stretch. In today's reality, not so much.
According to Truelist.co, affiliate marketing is estimated to be worth $12 BILLION globally. Bloggingwizard.com estimates an affiliate marketing spend of $6.8 billon for the US alone.
Online business isn't going away, it's growing exponentially. And through affiliate marketing people who previously had no experience with online business are earning consistent monthly revenue by simply connecting people with the products and services they're already looking for online.
More and more people are looking to affiliate marketing as a legitimate strategy to boost their income. It's one of the more popular questions you'll find on Quora.
Sure, there are online sites like Swagbucks where you can earn a few pennies here and there for taking mind-numbing surveys. Maybe you've even tried your hand with network marketing but found that it had no sustainability.
But real money, consistent money, is made via affiliate marketing.
Related Article at WorkFromYourLaptop.com!
Check out "Is Affiliate Marketing a Pyramid Scheme?" and see the clear differences between affiliate marketing, network marketing, and illegal pyramid schemes. Know the difference!
So What is Affiliate Marketing and How Does It Work?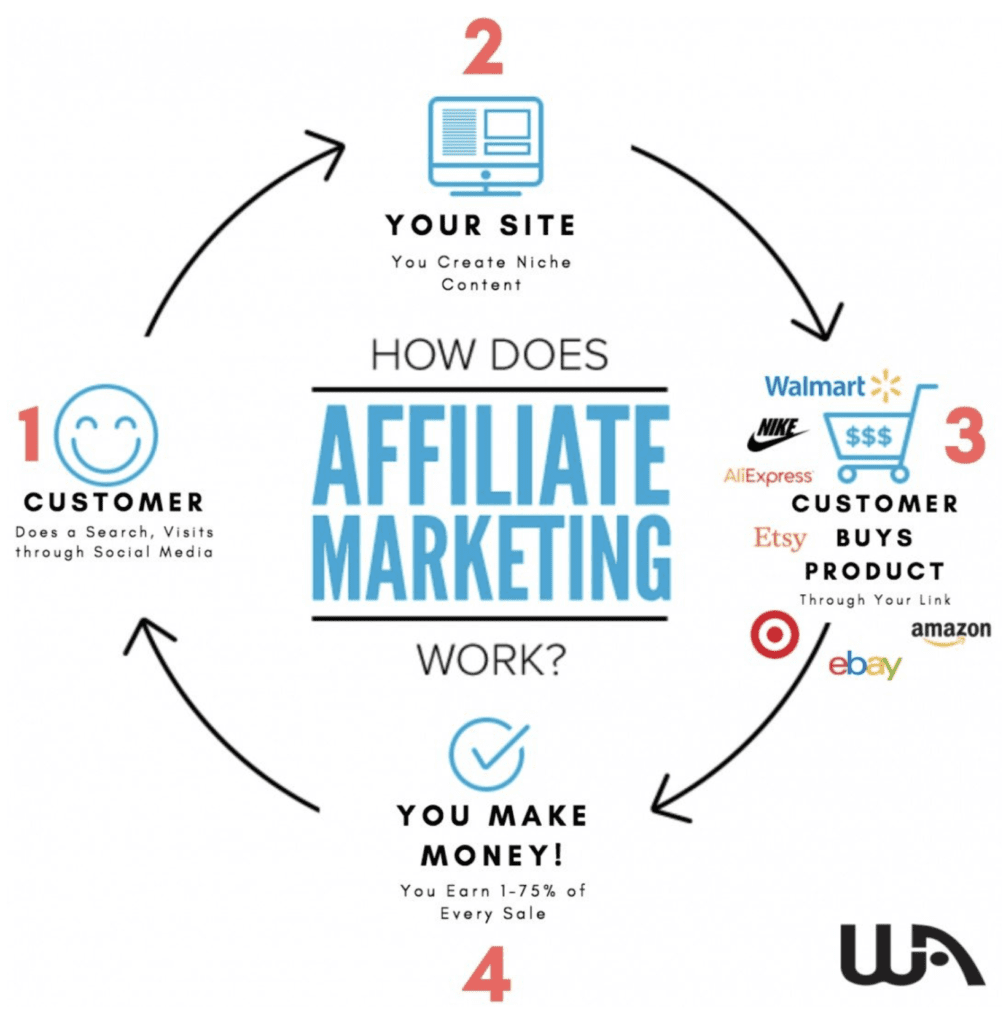 Affiliate marketing is all about connecting people with the products and services they're already searching for online.
When you partner up with popular merchants like Amazon, Walmart, Apple, etc., you can earn steady commissions every time you connect a customer with what they're looking for.
Chances are, you've been a part of the affiliate marketing process and not even known it.
Have you ever decided that you wanted to make a Google search for something before you bought it? We all have, and affiliate marketers count on this.
Let's say I wanted to buy a camera for my next big trip. (I'm a travel addict. In fact, you can check out all my travels funded by my affiliate marketing business on instagram @batmantravels.)
I might make a Google search for "best travel camera". This is the start to the affiliate marketing process.
I find an article on page 1 of the Google search result pages, read the review, like what I see, and then I click on a "Buy It Now" link that takes me to the website of a trusted merchant like Amazon or Walmart.
That link is called an affiliate link. It takes you directly to the merchant to make your purchase. In doing so it also gives credit to the affiliate marketer for leading you to the merchant's website.
And when the purchase is made, the merchant sends a percentage of that sale to you, the affiliate marketer. This is a process that can repeat literally HUNDREDS OF TIMES A DAY and there's no limit to your commissions!
2. Very Little Money Needed (Even FREE) to Start
Unlike starting a traditional business, affiliate marketing has very low overhead costs.
Eddyballe.com lists affiliate marketing's low start up costs as one of his top 5 reasons why affiliate marketing is still worth it in 2022. I absolutely agree.
Technically, you could start affiliate marketing absolutely free (if you know what you're doing).
But you might be asking:
How do I partner with trusted merchants?
How do I get paid?
Do I need to build a website?
How do I get promote products and services I like?
How do I get eyes on my content so I can make sales???
As with every single business out there, you need to have an understanding of how the business works and training on how to be successful.
Thankfully there are some solid affiliate marketing training platforms out there that won't empty your bank account. You can check out my list of top affiliate marketing training platforms here.
Make sure you stay away from the flashy, often ridiculous training platforms led by "gurus". These are the ones you see on social media with ridiculous revenue promises and "done for you" systems.
Affiliate marketing "gurus" like John Crestani and Keala Kanae will sucker your into low buy-ins that literally turn into spending tens of thousands of dollars! Don't fall for the hype!
Related Article at WorkFromYourLaptop.com!
Check out "70 Wealthy Affiliate FAQ You Need to Know Before You Join!" for all the details you'd need to get started with the affiliate marketing training platform I owe all my success to. It's free to try and you even get me as your support coach!
3. Affiliate Programs Are Everywhere!
Truelist.co mentions that over 80% of all brands have affiliate programs. That's HUGE!
It means that brands recognize that online business is where so many people will find their products and services, especially via mobile!
And by allowing bloggers and affiliate marketers to share and promote their products, it's a true win/win for bother merchant and affiliate marketer.
4. Affiliate Programs are Free to Join
Remember what I said about affiliate marketing having very low overhead costs?
Here's another confirmation to that point. Very rarely do you find an affiliate program where there's any costs associated with joining!
Merchants WANT bloggers and affiliate marketers to promote their products and services. They don't want any hurdles to stand in the way from this great form of word of mouth advertising.
Because of this, joining affiliate programs is almost always free! Usually the only requirements revolve around how much traffic your content is receiving at the time of application.
Related Article at WorkFromYourLaptop.com!
Want to learn how to build traffic to your content? It's all about keyword research! Check out "How to Use Jaaxy" for details on my favorite keyword research tool! Prefer no tools? Check out "The Free Way to do Keyword Research Without Tools"!
5. Affiliate Programs Can Earn Big Commissions!
Not all affiliate programs are the same. Not by a long shot!
One affiliate program could reward your efforts with a 10% commission, while another offers a 75% commission.
One affiliate program could generate consistent monthly revenue through pure volume of commissions, while another generates money because of single LARGE commissions.
According to MonitorBacklinks.com, the average affiliate marketing commission ranges between 5% – 30%.
So for example, let's say a product you're promoting costs $100, with commissions falling between $5 – $30. With the right affiliate marketing training, your content could be getting hundreds of views per day.
And let's say from all those views 1 out of 10 of make a purchase. On the low side, that could be $5/day, or on the average side $20 – $50/day, or on the high side, hundreds of dollars per day.
Some high ticket products can literally earn you 6 figures from one sale!
Now, before you go buying that Lamborghini, let's bring you down to earth.
Remember to think conservatively. It takes time to build traffic, and most of your starting commissions will be smaller.
A solid way to compound your earnings is to become an affiliate for programs with recurring monthly memberships. This means earning multiple commissions from a single conversion.
Any time you can earn multiple times from one conversion or sale, that's big.
This is an example of my highest monthly total for affiliate marketing commissions that came in my year 3.
The best recurring monthly commission based affiliate program I've found is this one. Average membership lasts 8 to 12 months (awesome!) with the average commission per referral at $121.
Recurring monthly commissions definitely add up.
What is the average affiliate marketing income you ask? Truelist reports the average earnings of full time affiliate marketers is $89,162. A secondary source (Shopify.com) lists the average affiliate marketer full time income at $52,130.
One important thing to understand is that these earnings don't come overnight. Affiliate marketing is not a "get rich quick" scheme.
But from my personal experience, the earnings are very much worth the work involved.
6. You're Not Limited to Just One Affiliate Program! Go Big With Multiple Streams!
With affiliate marketing, every single website you build is like creating a new, independent business. And with each website you're not limited to only one stream of income.
You can find multiple affiliate programs that fit your niche. Each one generating revenue to your affiliate marketing business.
On top of that, your affiliate marketing revenue isn't limited to just commissions that come from sales and conversions.
Traffic alone can create substantial ad revenue and quickly make your business profitable.
7. The Learning Curve is Low
Just as with any business, getting the right training is crucial to finding your success. Affiliate marketing is no different.
But affiliate marketing isn't rocket science. It just takes time.
If you're building a website, it takes time to build trust with Google. It takes consistent content creation. It takes an understanding of keyword research.
Now, as I'll show you further in this article, you don't even need a website to be successful in affiliate marketing. You can truly EXPLODE your affiliate marketing business using just YouTube, Instagram, or other social media platforms.
But once you understand the questions your target audience is making searches on, it becomes easier and easier to create content that is the answer to those searches.
You'll learn how to create content that is getting massive, consistent, TARGETED traffic. And in the world of affiliate marketing, traffic equals revenue!
Related Article at WorkFromYourLaptop.com!
Want to take a free test drive of the affiliate marketing training I recommend over all others? It's straightforward, affordable, and it delivers. Try it free to see if it's a good fit, make your primary focus learning, and everything else will follow. Get started here and get me as your support coach!
8. You Have the Freedom to Build in Any Niche You Choose
What does it mean to choose your niche? True affiliate marketing means having the freedom to take your business in any direction you like.
What are your interests? What's your passion? To be successful, it's key to choose a niche that you have a real interest in. This places you smack dab in the middle of your own target audience and creating content will actually be fun and not a chore.
Too many times you see bizarre schemes online that make ridiculous revenue promises and promise "done for you" systems, only to find out that what you're actually paying for is just the right to resell what you just bought.
That's not affiliate marketing! That's just buy and resell.
True affiliate marketing means you can create content around a variety of niches, in areas of your expertise, in areas relevant to your interests, and then promote products and services to people just like you who are interested in them!
Have a love for travel and photography? Maybe you're a chess lover. How about a food related niche for foodies just like you? How about doing all 3?
The possibilities are endless and you're the one in control.
9. Affiliate Marketing Can Be Done With or Without a Website
The most straightforward approach to affiliate marketing success is through building a niche website.
When you create a website, it's like having your own piece of internet real estate. Here, you can publish content relevant to your niche where your audience can find the answers they're searching for and more.
Related Article at WorkFromYourLaptop.com!
The training platform I learned affiliate marketing from makes the process of building a website a breeze. Go through my link and take it for a free test drive. You'll be building your own website in lesson 4! See if the training is a good fit for you before you make any obligation!
And when you learn how to do great keyword research, your articles will find themselves consistently at the top of Google's search results.
This means a steady stream of free, targeted traffic.
But affiliate marketers technically don't need a website to be successful.
You could reach a massive audience using social media like YouTube, Instagram, Facebook, TikTok, and more and be very successful affiliate marketing without spending a dime.
Or why not build your own website and create a YouTube channel as well! My YouTube channel became profitable extremely fast.
If creating your own YouTube channel sounds scary, don't worry. You can choose to use other YouTuber's videos and simply embed them in your content!
The more avenues you use the great chance you have of growing your audience. Remember, traffic equals revenue!
10. Building a Website is Easy
Building a website can *sound* like a daunting task, but it's actually simple and straightforward.
First, you need a domain. Your domain is basically your web address. You can build on a free domain or on a premium domain.
You'll also need hosting. Hosting means having a service that monitors your website, protects it from any spam attacks, keeps it running, keeps it secure, etc.
Once you have that you'll need to choose a theme. Your theme is basically the skin of your website and what it looks like.
When I got started in affiliate marketing I had never built a website before. The training platform I learned from was great because it had a free domain, hosting, and themes included.
I learned and practiced on the free domain, and then later upgraded to my own .com and never looked back.
11. Affiliate Marketing and Social Media Go Hand in Hand
Social media is all about shares, likes, and commenting. Many affiliate marketers take to social media to share their content and reach their target audience.
This doesn't mean you're going to start shoving your content down your followers throats. I wrote an article on a scheme that was all about turning your Facebook profile into a lead trap. (Not good.)
You want to be smart about reaching your audience. Reach the people who actually want to see that content by joining groups, creating a dedicated page or channel, using hashtags, etc.
If you know what you're doing, you could launch a completely successful affiliate marketing business for free with no money by utilizing a 100% free social media strategy.
12. Affiliate Marketing Seems to be Disaster Proof!
Ok, let's be honest, if the internet somehow went away tomorrow, affiliate marketing would literally disappear. Duh.
But, when the entire global population was reeling in response to a global pandemic that no one had ever experienced before, affiliate marketing GREW as an industry!
According to WeCanTrack.com this surge is no fluke. In fact, affiliate marketing has been on the rise consistently for years and is still trending massively up!
With the love (obsession) people have for their smart phones, you can bank on affiliate marketing being one of the most direct ways to reach target audiences for the foreseeable future.
13. With Affiliate Marketing You're the Boss, You Reap the Rewards!
Having your own business where you can call the shots, decide your own hours, and where you don't have to split the profits with anyone is great.
It also means there's no one but YOU to point the finger at if you don't put in the work.
Affiliate marketing isn't a get rich scheme where you're making money overnight. It takes time and effort.
But the rewards you get from it massively outweigh any negatives and there's nothing like being able to work from anywhere in the world you want as long as you have your laptop nearby.
Whether you're someone like me addicted to traveling this world, or you're someone who just wants to spend more quality time with the ones you love, affiliate marketing can give you both the time freedom and financial freedom you're looking for.
Final Thoughts
In a world where everyone buys everything online, affiliate marketing is a straightforward and affordable way to create a new stream of revenue. The learning curve is low, the demand is high, and you have no limitations to the direction you choose to go in.
Take the affiliate marketing training platform I owe my success to for a free test drive and see if it's a good fit for you! Create your free starter account here! Have some questions? Check out my ultimate guide with 70 FAQs to get the full details on exactly how it works and how you can make it work for you!
Do you agree or disagree?
Let me know what you think in the comments section below!
Recent Posts
Is Affiliate Marketing Worth It in 2022? 13 Reasons to Get Started!

Here are 13 Reasons why affiliate marketing needs to be on your radar if you're looking to cash in on the world's obsession with buying online!

Should I Travel the World Alone?

Asking yourself "Should I travel the world alone?" The answer is YES! I'll show you how to make solotraveling safe and easy even for beginners!

Wealthy Affiliate Review 2022

In this Wealthy Affiliate review UPDATED for 2022 I'll cover everything you need to know about this affiliate marketing training platform including debunking common complaints and taking an inside look at how and why Wealthy Affiliate's training works.

How to Start Affiliate Marketing for Free With No Money

Is Affiliate Marketing a Pyramid Scheme?

Is affiliate marketing a pyramid scheme? See the difference between affiliate marketing and network marketing (MLM) so you know the red flags to avoid!
The post Is Affiliate Marketing Worth It in 2022? 13 Reasons to Get Started! appeared first on WORK FROM YOUR LAPTOP.